Salsa Chicken
Yesterday I made salsa chicken in my slow cooker. There are tons of salsa chicken recipes on the Internets, but most of them were too much trouble for my lazy bones, so I did my own thing and while it doesn't look very pretty, it tasted great!
You Will Need:
2-4 Frozen Chicken Breasts (fresh works too, but the cooking times will be different)
1 Cup Salsa (I used Great Value Lime and Garlic, but choose your own adventure here)
2 Tablespoons Taco Seasoning
Slow Cooker Liner (optional but recommended)
Directions
Line your slow cooker with a slow cooker liner (you can find them in the aluminum foil aisle at the grocery store). If, unlike me, you enjoy doing dishes and are okay with having to scrape food goop off the bottom of the slow cooker after dinner, feel free to skip this step. Next, add the chicken breasts to your crockpot. I used 3 frozen ones. Sprinkle the chicken breast liberally with taco seasoning. Pour salsa over the chicken breast and cook on high for 4 hours or until the chicken is cooked all the way through. Serve with your favorite sides. Yesterday I had it over brown rice with a side of grapes, but I plan to have leftovers with a slow cooker baked sweet potato. I also imagine this would be yummy as a taco filling.
In other news, I went for an after dinner walk yesterday since it was still light out and I felt the need to outdo myself on Fitbit steps. The walk was perfect and by the time I was done I had walked more than 22,000 steps for the day.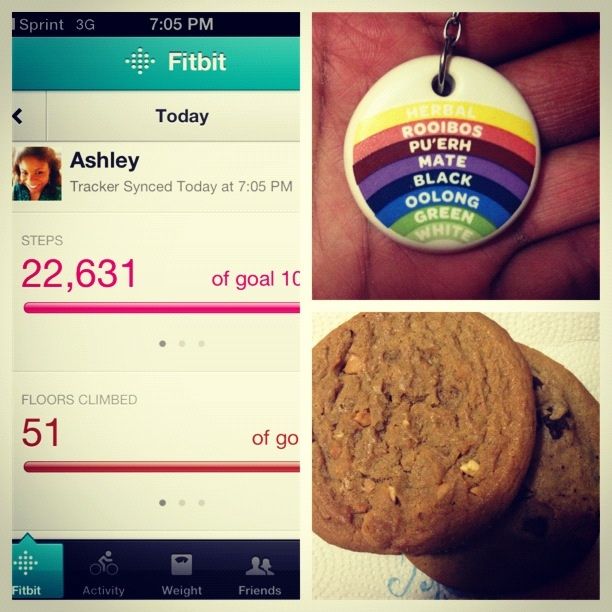 I passed a Subway on the way home and decided that I had more than earned a treat for the day. I got myself two cookies and ate them guilt free with a cup of tea when I got home.