Last week I decided to participate in the
Weekly Goals Link Party
over at Operation Skinny Jeans. My goals were as follows:
1) Run at least 3 times, 3 miles or more per run
2) Do Level one of Jillian Michaels' 30 Day Shred at least once
3) Do at least 2 hour long elliptical sessions, level 8 or above.
4) Stay within my calorie budget
5) Lose at least 1 pound
I guess I should probably let you know how I did, huh? I did run 3 times (
here
,
here
, and
here
), but one of my runs was only 2.84 miles. Not quite what I was aiming for, but pretty damn close! I did the 30 Day Shred Level One
here
and I did one elliptical session on the same day. I didn't get around to doing a second hour long session on the elliptical, but I did a lot of walking last week as you can see from my weekly Fitbit report.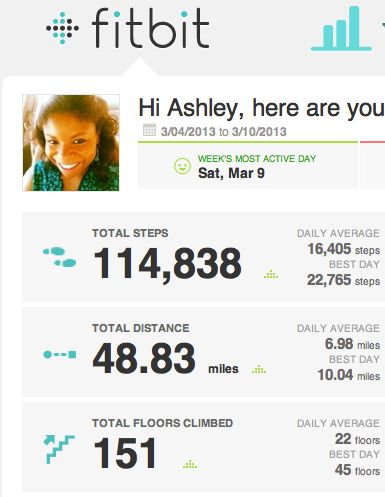 I did manage to stay within my calorie budget last week. I used some of the extra calories I burned with exercise to work several treats into my plan and it was awesome! As for goal 5, I outdid myself. When I
weighed
in I was happy to see that I was down 2.8 pounds bringing my total up to 30 pounds on the dot. Not bad for my first week of goal setting!
This week's goals are as follows:
1) Stick to Week 1 of Hal Higdon's 10k training plan
2) Try a new recipe
3) Lose at least 1 pound.