Last week I discovered the Non-Scale Victories linkup over at
KTJ Weighing In
and decided to participate on a whim. I decided to participate again because I know that I haven't done as well with my diet as I would like between not being able to exercise for medical reasons and the all-consuming urge to stress eat while I deal with finals. I need to focus on something positive right now so this week my non-scale victory is all about a belt.
I wore a belt today that was getting awfully small when I wore it this time last year. I knew I was getting bigger at the time, but I was in denial about how far off course I had gone. But today I realized that I had turned things around in a big way when I tried the belt on with today's outfit. Not only did the belt fit comfortably again, but it is almost too big now!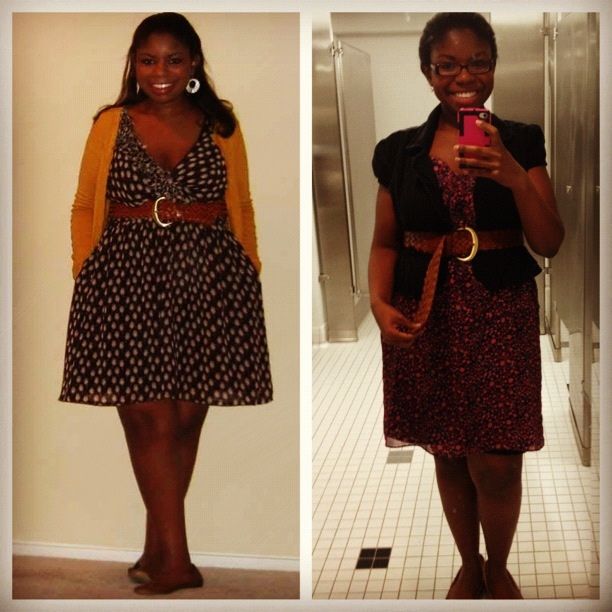 The photo on the left was taken on
March 19, 2012
. The picture on the right is from today. There is a huge difference in how the belt fit last year and now and even though I'm still not where I want to be on my weight loss journey, I have made major progress and you can see it in the way my clothes fit. I'm going to need a new wardrobe soon!
As an aside, I took the picture on the right in a bathroom at school and it is an absolute miracle that no one caught me in the act. No one else was in the bathroom so I wasn't really invading anyone's privacy, but someone I met in college once pointed out that there is something really subversive about taking pictures in public bathrooms. Maybe it's because the bathroom is such a private space, but I think the idea had merit. I have taken pictures in that bathroom before, but I always imagine I would get in trouble if someone caught me. It's my version of living on the edge, I guess.