My day has been crazy. It started with a grocery store run, followed by a weigh-in, lunch, a long walk, and dinner. And a treat. I earned a treat. But let's take a look at my day in slow-mo, shall we?
After I got back from the grocery store I got on the scale and basically exploded with excitement when I saw my weight.
I lost 4.8 pounds since
last week
! Having tracked my weight since last September, I have a pretty good understanding of how my body loses weight. The week of my period I either lose very little, lose nothing at all, or gain weight. I'm fairly certain it's a water retention issue, but whatever causes it, it almost always happens.
If I stay on top of my diet and exercise regimen the week of my period, the week after my period I usually lose more weight than usual. I like to think that once the water weight from my period goes away, the weight I should have lost the week of my period as well as the weight I lost the week after my period shows up on the scale. This week was no different. Between keeping up with my training schedule including doing my
longest run so far
and really staying on top of my calorie intake for the past two weeks, I guess I did all the right things to make my body let go of the weight. My results usually aren't this good (and let's be honest, they will probably never be this good again), but I may or may not have basked in the glow of seeing a weight loss that good for most of the day.
I also did a lot of cooking today, mainly because I won't have as much time for it now that finals are looming. I had a Hawaiian turkey burger with a side of sweet potato tots for lunch.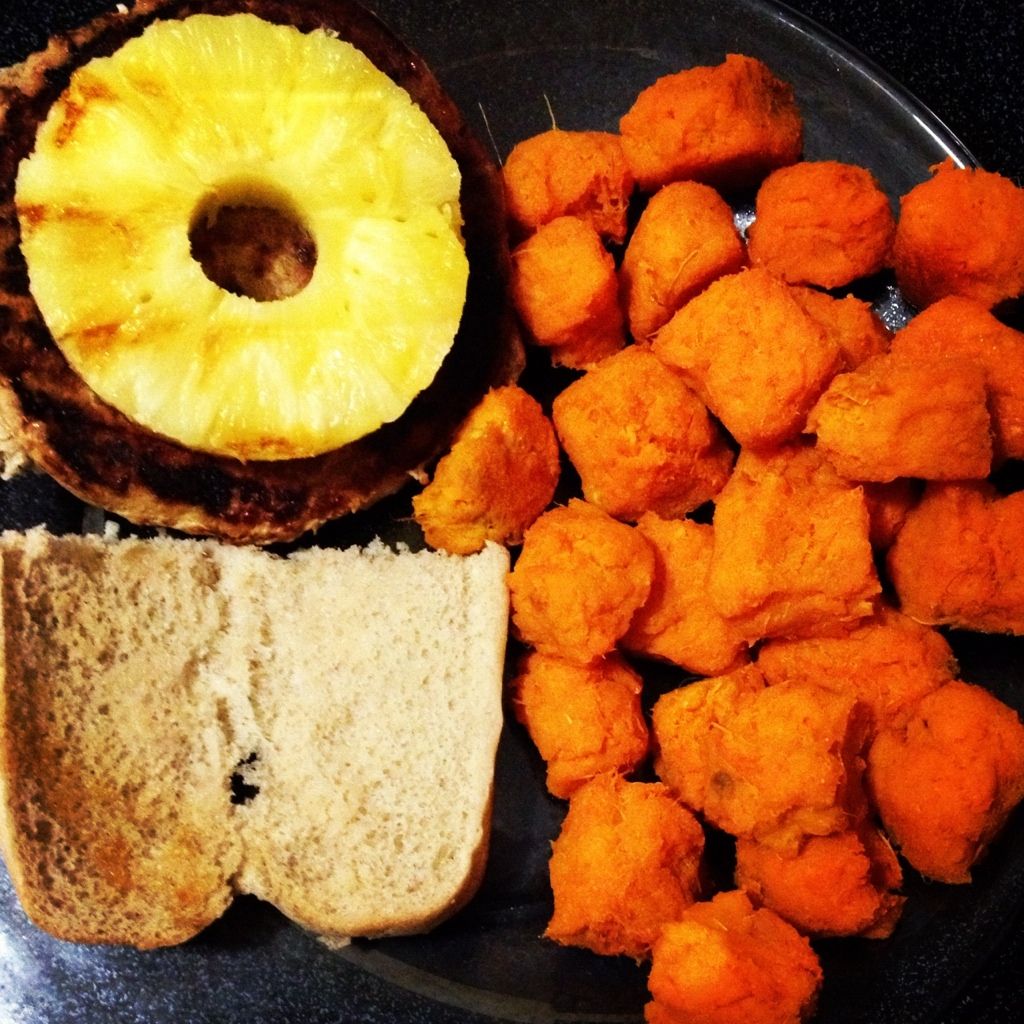 Then I threw the ingredients for stuffed peppers in the slow cooker for dinner and left for a long walk. I started listening to a new book and enjoyed the 70 degree weather despite the fact that I walked straight into a cloud of gnats at one point and was harassed by two bees and a wasp, both of which terrify me beyond description.
I got home just in time to take dinner out of the crockpot. I was stuffed like Thanksgiving before it was all said and done.
I was in no way hungry, but I still found myself going to the store after dinner to purchase milk chocolate shame in the form of a Reese's.
I worked hard today and as far as I'm concerned I earned every last bite.