I was talking to one of my aunts last week and she mentioned she was on her way to Trader Joe's. I like Trader Joe's, but I hardly ever go. They have better quality meat and produce than Walmart and they are usually cheaper than Kroger or Harris Teeter on not as popular in the South items like Tofu, quinoa, and alternatives to cow's milk. However, there are grocery stores closer to my home than Trader Joe's and I frequently want to buy things like normal soap or ziploc bags that Trader Joe's doesn't sell. As a result, I usually find myself going elsewhere for my grocery needs. Every now and then I get a craving for some Trader Joe's product that I know I can't buy elsewhere and off I go to spend a happy hour perusing the shelves and freezer sections. Today was one of those days. Here's what I bought.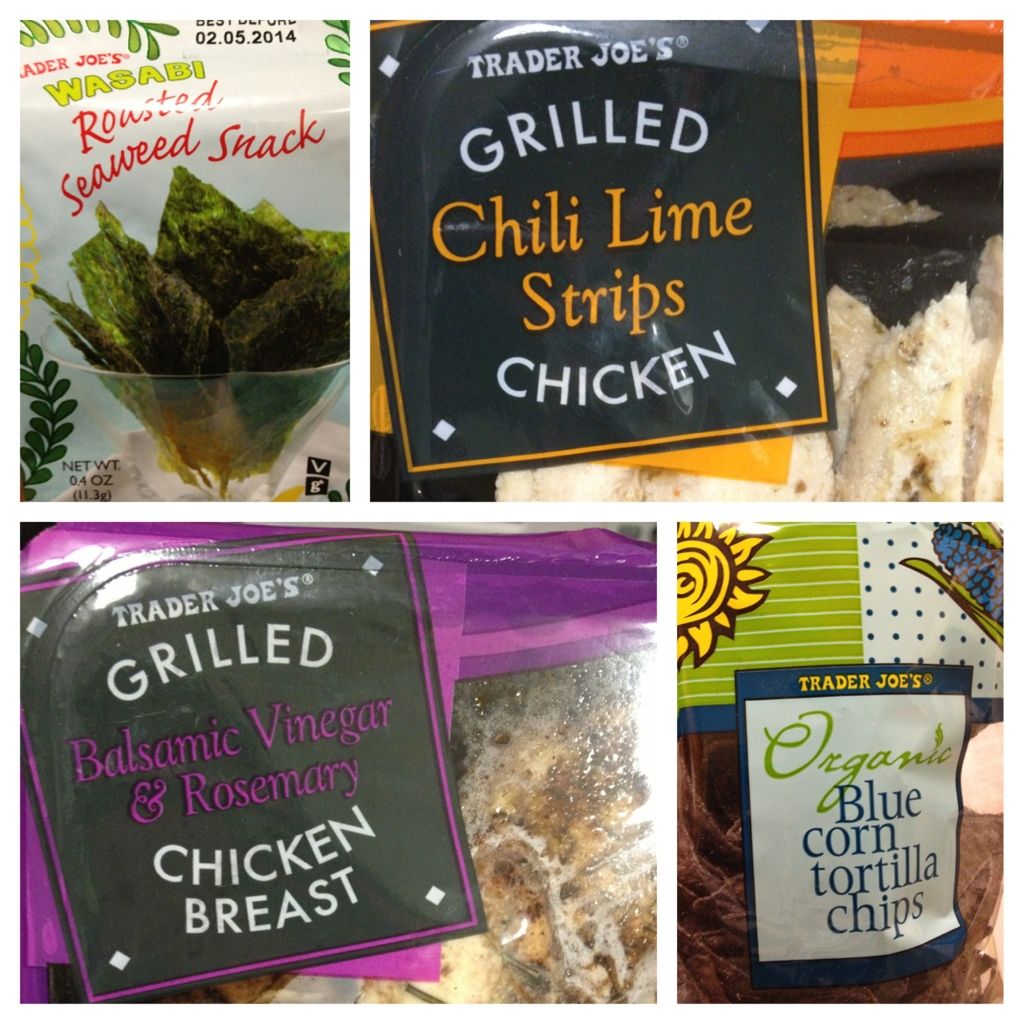 Wasabi flavored seaweed snack, heat and serve chicken in chili lime and balsamic vinegar & rosemary flavor, and organic blue corn tortilla chips to go with the hummus pictured below.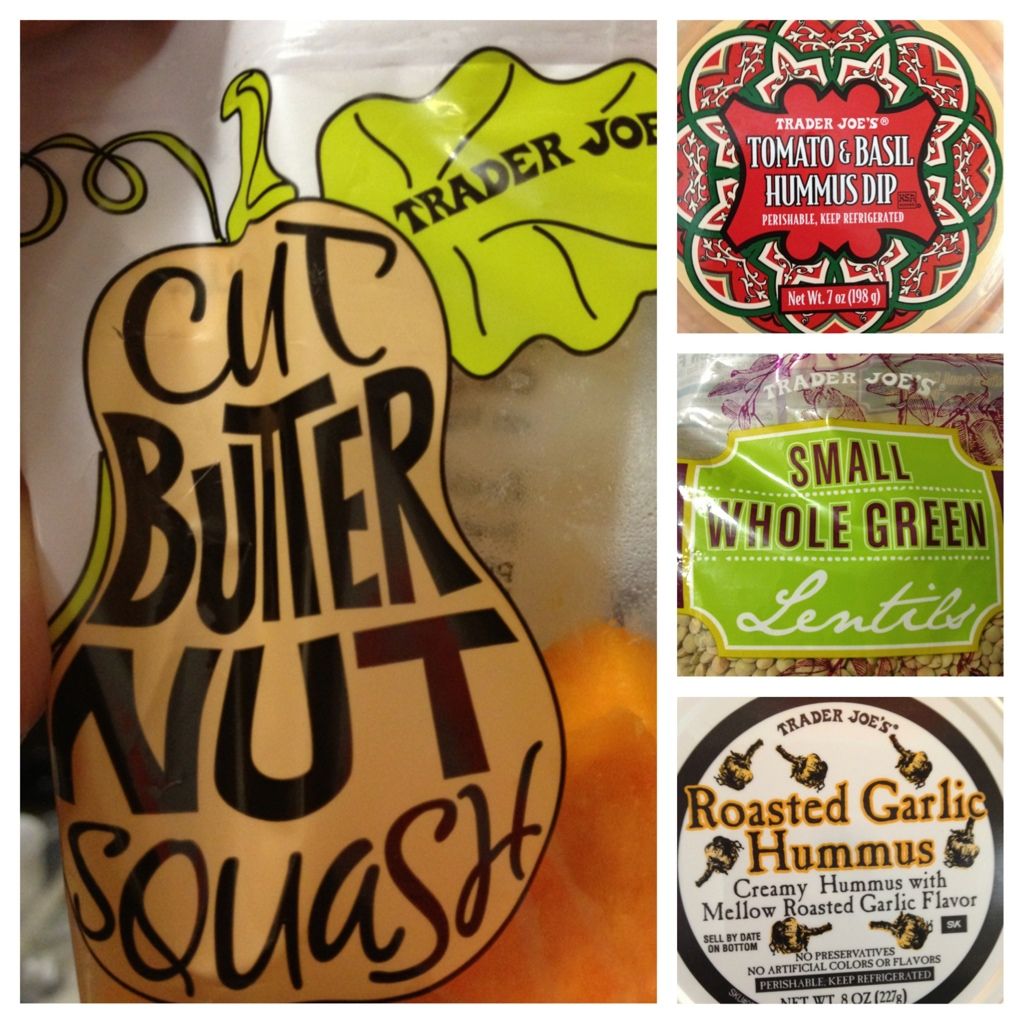 Cubed butter nut squash, hummus in roasted garlic and tomato & basil flavors, and green lentils. I plan to use the lentils in a recipe next week.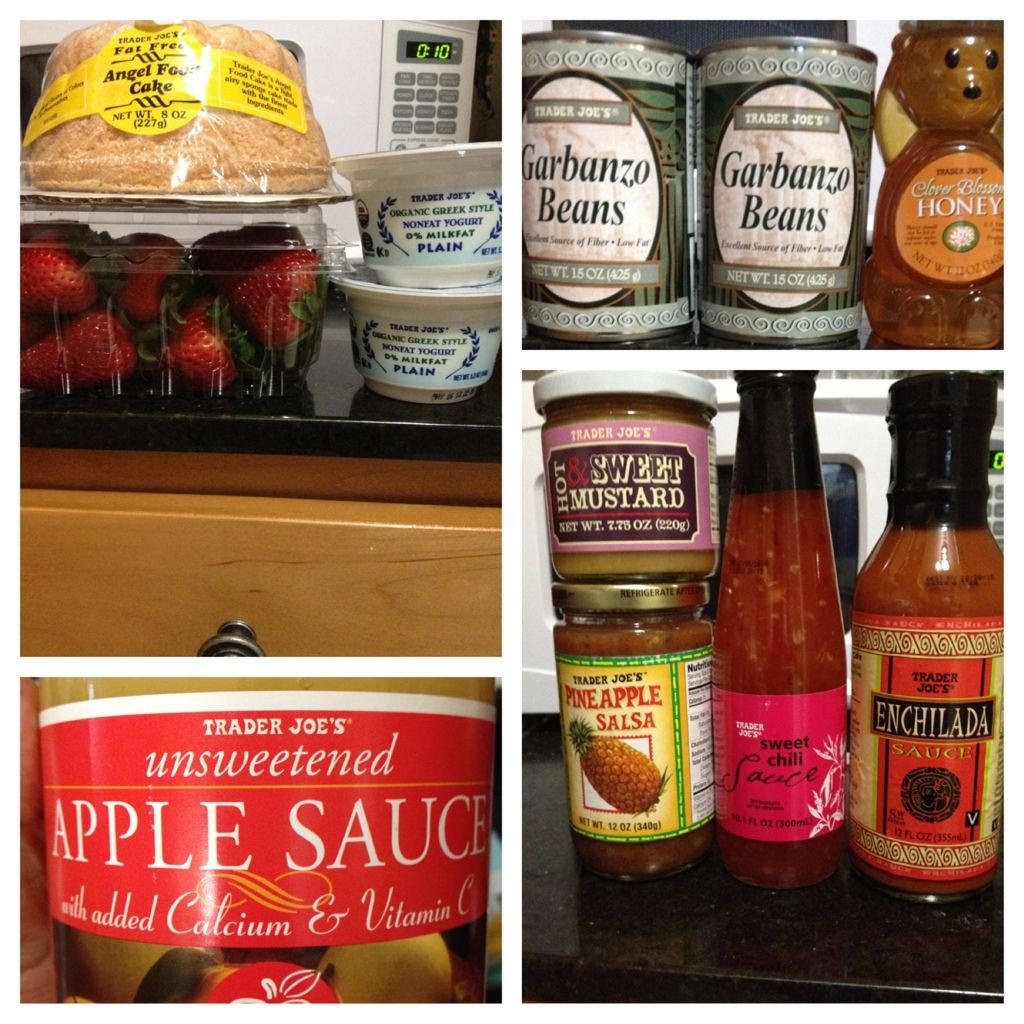 Angel food cake (impulse buy, but not the worst one I've ever made), fresh strawberries, plain non fat greek yogurt, chickpeas, honey, unsweetened applesauce, and allll the sauces for some frozen chicken breast that isn't pictured. I got hot & sweet mustard, pineapple salsa, sweet chili sauce, and enchilada sauce. There are tons of easy crockpot chicken dishes in my future.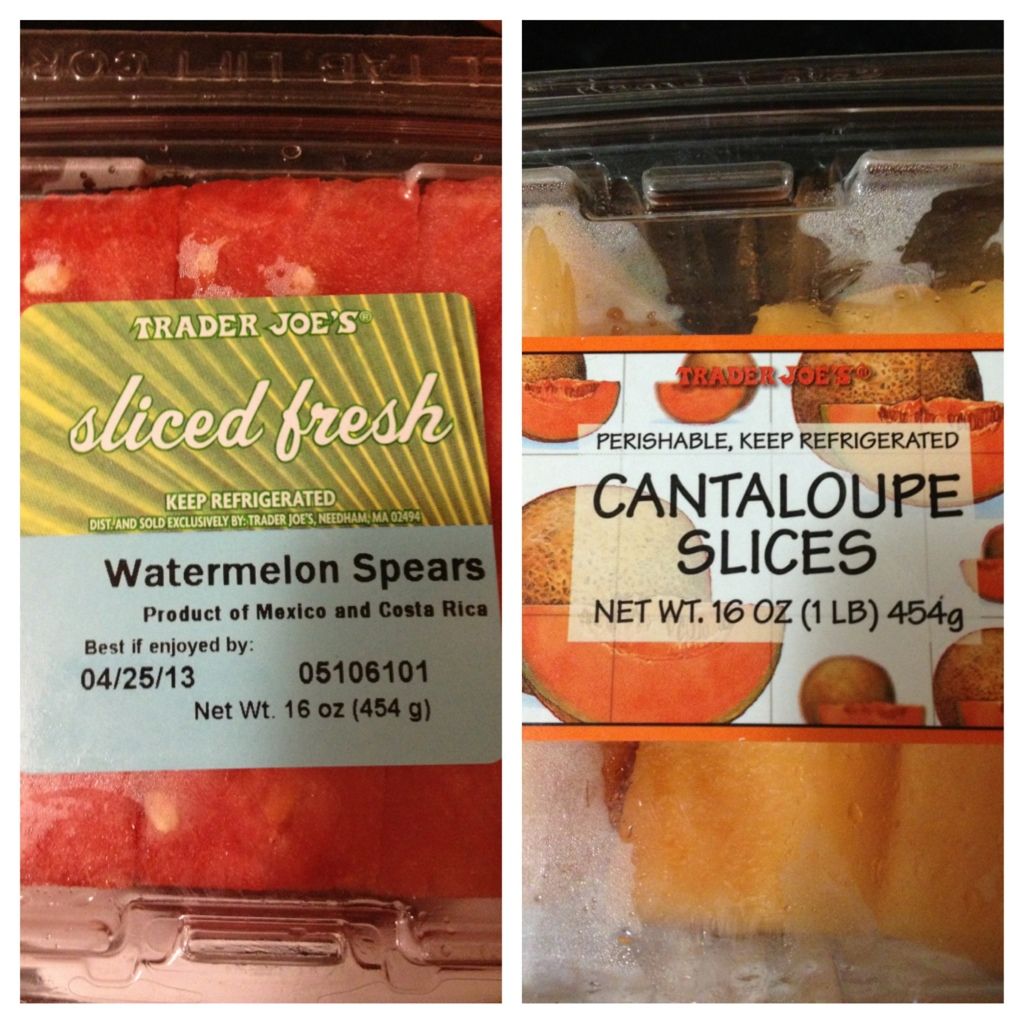 More fresh fruit. Watermelon spears and cantaloupe slices. I actually ate a couple of the cantaloupe slices before taking this picture and promptly learned that I don't know how to spell cantaloupe as I tried to enter it in MyFitnessPal. Autocorrect kept trying to change my attempts to cant elope. Epic fail. I have since figured out the correct spelling, but I am a bit embarassed that I didn't know it to begin with.
Larabars! I have tried a few of these in the past, but my local Trader Joe's sells these individually which is nice because it allows me to try flavors before I buy a whole box. I got peanut butter cookie, peanut butter chocolate chip, apple pie, and cashew cookie. If I like a flavor, awesome. If I don't, no big deal since I only bought one. Speaking of trying new things, I have also never tried lentils, butter nut squash, or seaweed, pictured above. This will be a week of new noshing experiences, some of which will most likely find their way onto ye old blog.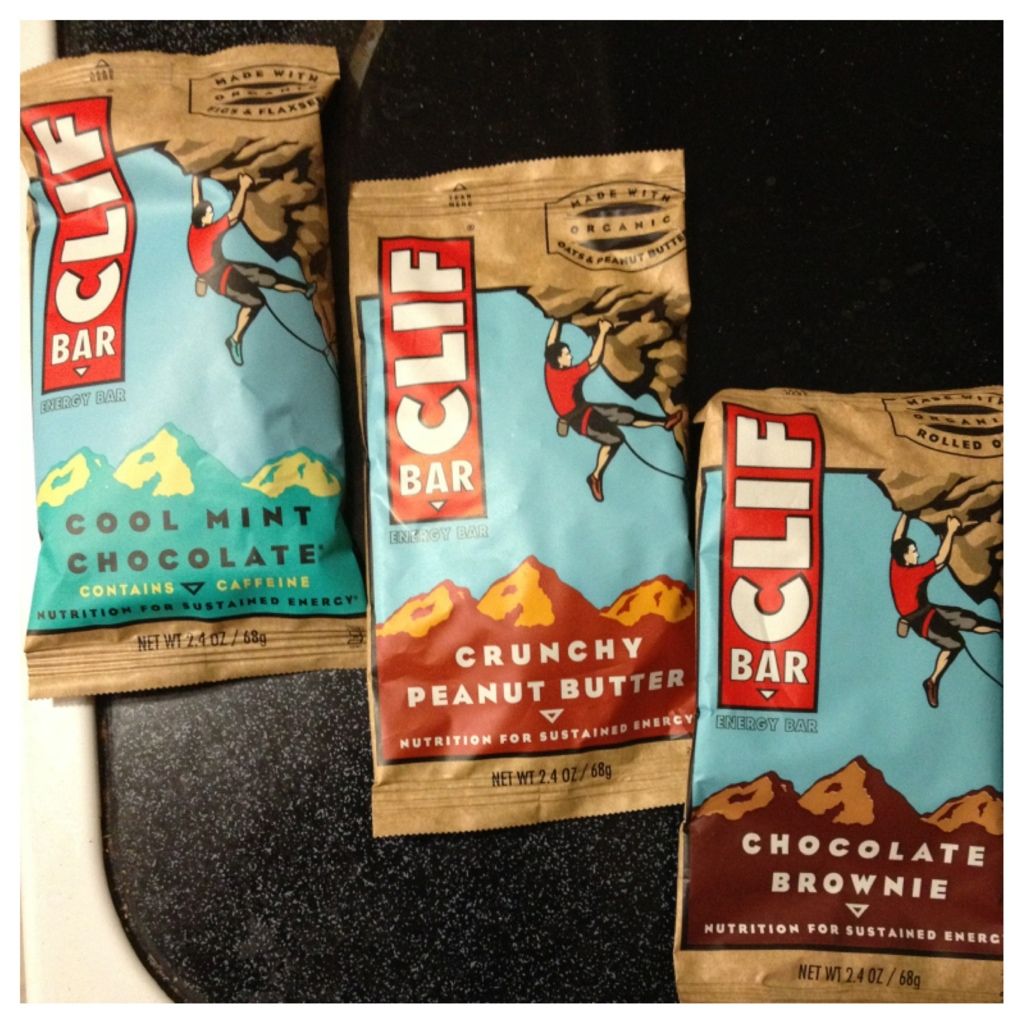 Clif bars. I frequently buy the Crunchy Peanut Butter kind at CVS when I am craving peanut butter but can't justify a Reese's or a Butterfinger based on my activity. I don't really think of protein bars as treats even though I probably should so I sometimes let myself have them even on days when I didn't really earn a treat. I'm trying the Cool Mint Chocolate and the Chocolate Brownie flavors for the first time. Hopefully I'll like them all.
In the interest of full disclosure, I went to an Evidence review session today where my professor provided free pizza from Pizza Perfect. Since I did not have a cheat meal this week I let myself have two slices, one cheese and one pepperoni. I couldn't find nutrition information online so I just counted it as two slices of Pizza Hut pepperoni pizza. I figured (hoped) the cheese slice would be fewer calories than the pepperoni slice but I would rather overestimate the calories than underestimate.
I wish I could say it wasn't worth it or that I regret eating it, but it was really good and totally worth every bite. There were whole pizzas leftover so I guess I should just be happy I didn't bury my face in one. I'm going to get myself back on track at my next meal and hopefully go to the gym this evening after dinner and a few more hours of fun with Evidence. You heard that right. I finished my antibiotic last night which means that I can get my sweat on during workouts again. I'm excited. If this break from workouts has taught me anything it's that the new me relies on exercise for stress relief. Once upon a time I would have eaten my feelings, but now I'm all about purging my demons with a tough workout. I'm liking the new me. Sometimes change is a really good thing.