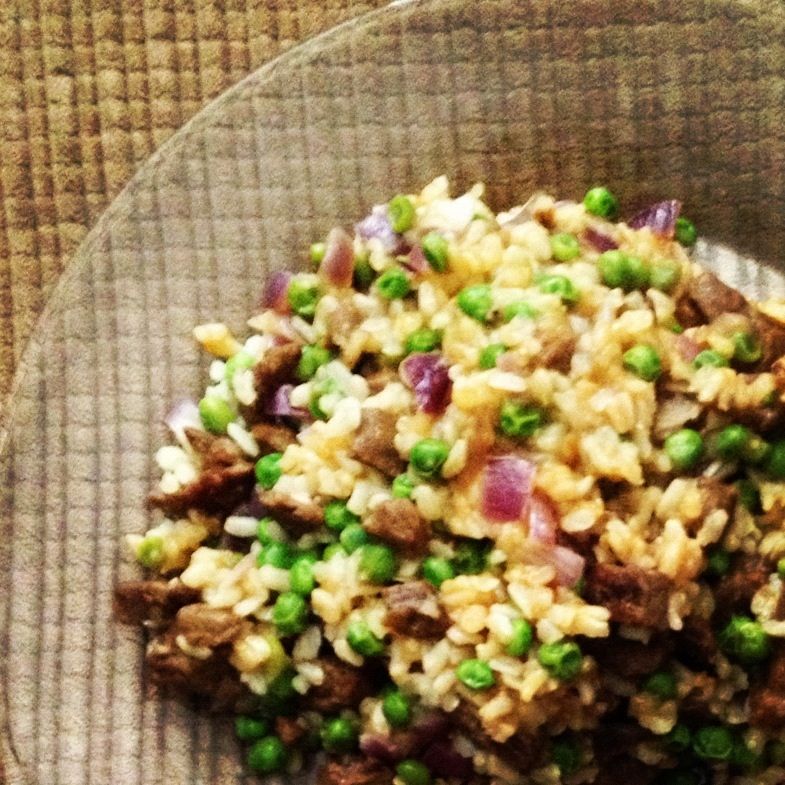 I have not reached cook status yet (and probably never will), but if I were a cook, I would be a lazy one. I hate getting multiple dishes dirty to make one plate of food and any kind of recipe that has too many steps is beyond my skill and attention span. That's why I have spent the semester figure out how I can make cooking healthy as simple as possible.
The recipe I have for you today would be really involved if you tried to make everything all at once. Instead, I buy pre-chopped vegetables and packages of cooked meat and toss them in the freezer for future use. I also make large batches of brown rice and freeze them ahead of time. The peas were already frozen. I'm sure you could make a ton of stir fry and freeze it already cooked, but I prefer to pick and choose my ingredients and seasoning mixes on the day of. It feels more spontaneous that way.
Ingredients
:
3/4 Cup Cooked Brown Rice
(mine was frozen and pre-portioned)
1/3 Cup Diced Red Onion (
frozen works fine)
3/4 Cup Frozen Sweet Peas
6 ounces of Cooked Steak Strips (
I used 1 package of Tyson steak strips, frozen)
1-2 Cloves Garlic
(I bought the pre-chopped kind)
1/3 of a Package Sunbird Honey Teriyaki Seasoning Mix
2 Tablespoons Low Sodium Soy Sauce
1/4 Cup Water
Heat a non-stick skillet over medium heat and spray with cooking spray. Add the rice, onion, sweet peas, cooked steak, and garlic to the skillet and stir periodically until all ingredients are hot. Add the seasoning mix, soy sauce, and water to the skillet and stir to coat. Enjoy!