This morning I got up, ate some fruit and a Larabar, and set out to run my longest run to date--5 miles. I think I've mentioned it before, but the fitness center in the building I'm staying in for the summer has the cardio machines set to go into cool down mode after 20 minutes so I basically had to hop off the treadmill multiple times and restart it. It was tough, both mentally and physically. Part of the problem is that I've been too lazy to go outside and try calibrating my new foot pod again. The last time I tried it was about to rain and I think it affected the GPS signal on the watch.
The sky pretty much looked like the picture above that day, which is honestly kind of standard for afternoons (or mornings, or evenings) in Orlando from what I've seen. Anyway, since I haven't calibrated the foot pod, the treadmill always says I'm running at least 1 minute per mile faster than my Garmin does. Since the pace is so far off, I'm always convinced as I'm running that I've gone farther than my Garmin thinks I have. I know that I'm running faster than my Garmin thinks I am too. It's disheartening and I really need to figure out the calibrating issue soon.
My mom asked me why I haven't been posting as much lately. The honest answer is that I've been lazy and I figured no one wants to hear that I walked to and from work then fell asleep watching Masterchef. That actually happened one day last week. I was ashamed. I have been on the hunt for new things to eat, though.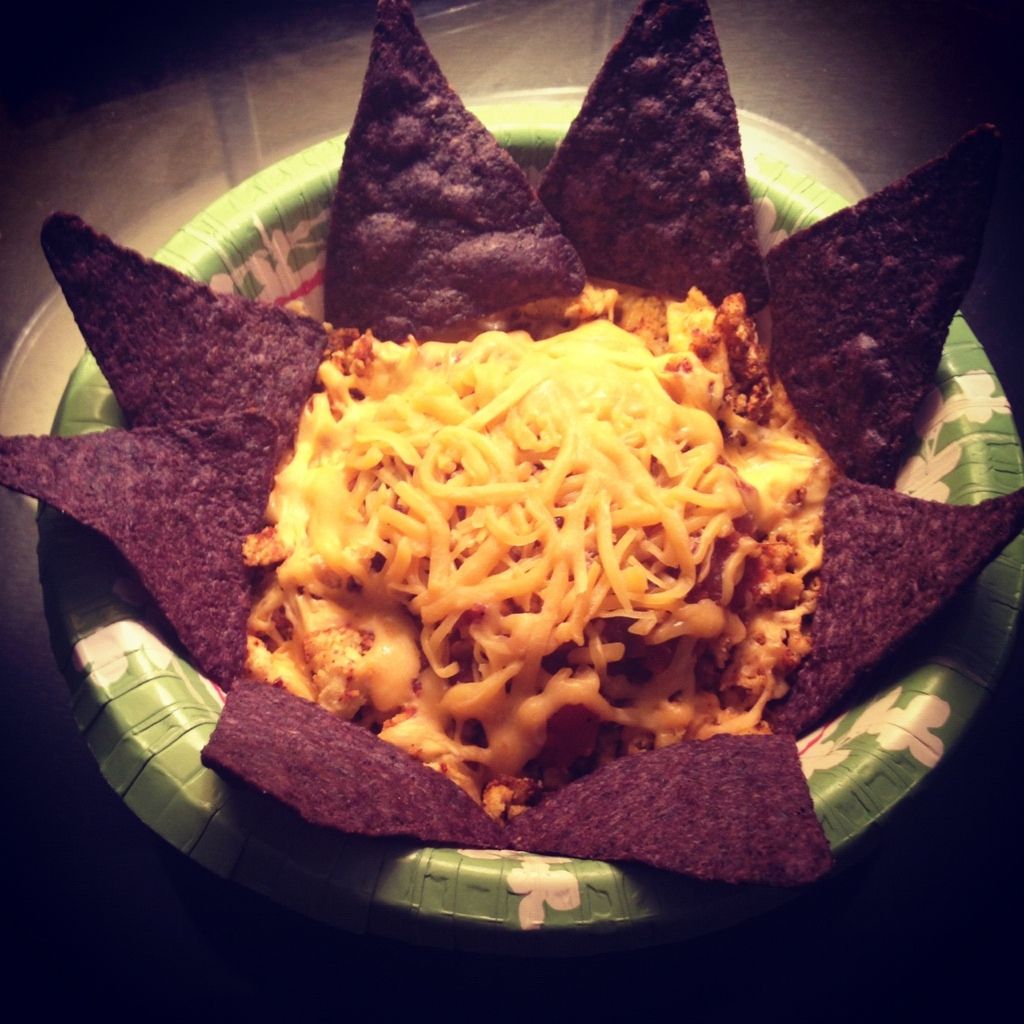 I got an idea for tofu taco "meat" from
Run Eat Repeat
a while back and made it last week. I know you can't see it under all the toppings, but basically you drain and press a block of tofu, crumble it up in the skillet so it looks like ground beef, and add taco seasoning. You keep stirring until it's all coated with taco seasoning and some of the water has cooked out of the tofu. I topped my taco "meat" with salsa and fat free shredded cheese, and served it with blue corn tortilla chips. I would have added a dollop of plain nonfat Greek yogurt, but I discovered that I had used the last container for
cookie dough Greek yogurt
.
When I went to the grocery store, I wound up buying a bunch of watermelon, Oikos, veggie burgers, meat for stir frying, and these
skillet sauces
by Campbell's that I imagine I will live to regret. I tried the Thai Green Curry over some brown rice and steak and it was absolutely delicious. But we'll see what the scale says about it....