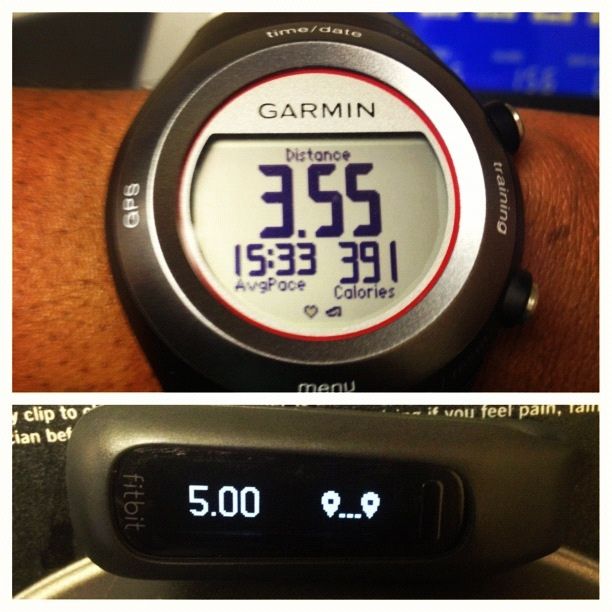 Over the weekend I discovered this show called Smash on Amazon Prime and I have been watching the first season obsessively. It's about the making of a Broadway musical and it's full of delicious drama. I was up really late last night because I just had to know what happened next so I slept in this morning. In my world that means I didn't wake up until 9. Sometimes things get crazy around here.
Anyway, after I woke up I had breakfast and spent a little time reading my facebook newsfeed. I dawdled for a while to let my food digest and eventually I made my way down to the fitness center to get in the first long run of the training schedule. Since I haven't calibrated my Garmin foot pod, the distance and pace information it gives me has been really off. I decided to use my Garmin to give me an accurate count of my calorie burn, but to rely on my Fitbit for distance so that I wasn't running further than the training schedule called for.
I walked for 5 minutes to warm up then hopped off the treadmill while I checked the distance on my Fitbit. After my warmup I was at 0.57 miles for the day so I knew that I would be done running when my Fitbit said 4.57 miles. I set the treadmill speed at a pace I knew I could stick with and started running.
The treadmills in my building are set to automatically go into cool down mode after 20 minutes so I had to hop off the treadmill and restart it a few times. I felt really good while I was running so I kept the speed at around 13:20 minutes per mile for most of the run, but towards the end I wanted to be done so I started doing intervals where I set the treadmill at 5 mph (12 minute miles) for 1 minute then slowed it down to recover for 1 minute and 30 seconds. When I had run 4 miles according to my Fitbit, I turned my Garmin off and walked for a few minutes to cool down.
Since it's shark week and I get really bad cramps, I didn't have very high hopes for this run. Turns out I was completely wrong. This was one of those days when I mostly enjoyed the experience. After I finished running I devoted the rest of my day to running errands. All in all it was a peaceful Sunday. Back to work in the morning...