This morning I did something more impressive than surviving the zombie apocalypse: I finished my first half marathon. I woke up at around 4 AM and the first thing I did was pour myself a giant cup of ice water. I knew the morning temperature would be relatively comfortable, but it was supposed to be in the low 80s up in the day so I wanted to be well-hydrated before I left home. I ate a big bowl of oatmeal before getting dressed, made extra sure that I had everything I needed, and headed out relatively early to make sure I could find parking.
I like to think of myself as intelligent, but finding a route across the river that was not blocked off by the time I got downtown was too confusing a conundrum for that early in the morning. I wound up parking in a lot that ended up being closer to the start line than the suggested parking would have been.
I jumped in the port-o-potty line before the race started and made my way to my corral. I spent some time last night making a playlist so I started it up as soon as they cut the yellow tape on my corral and we started moving forward.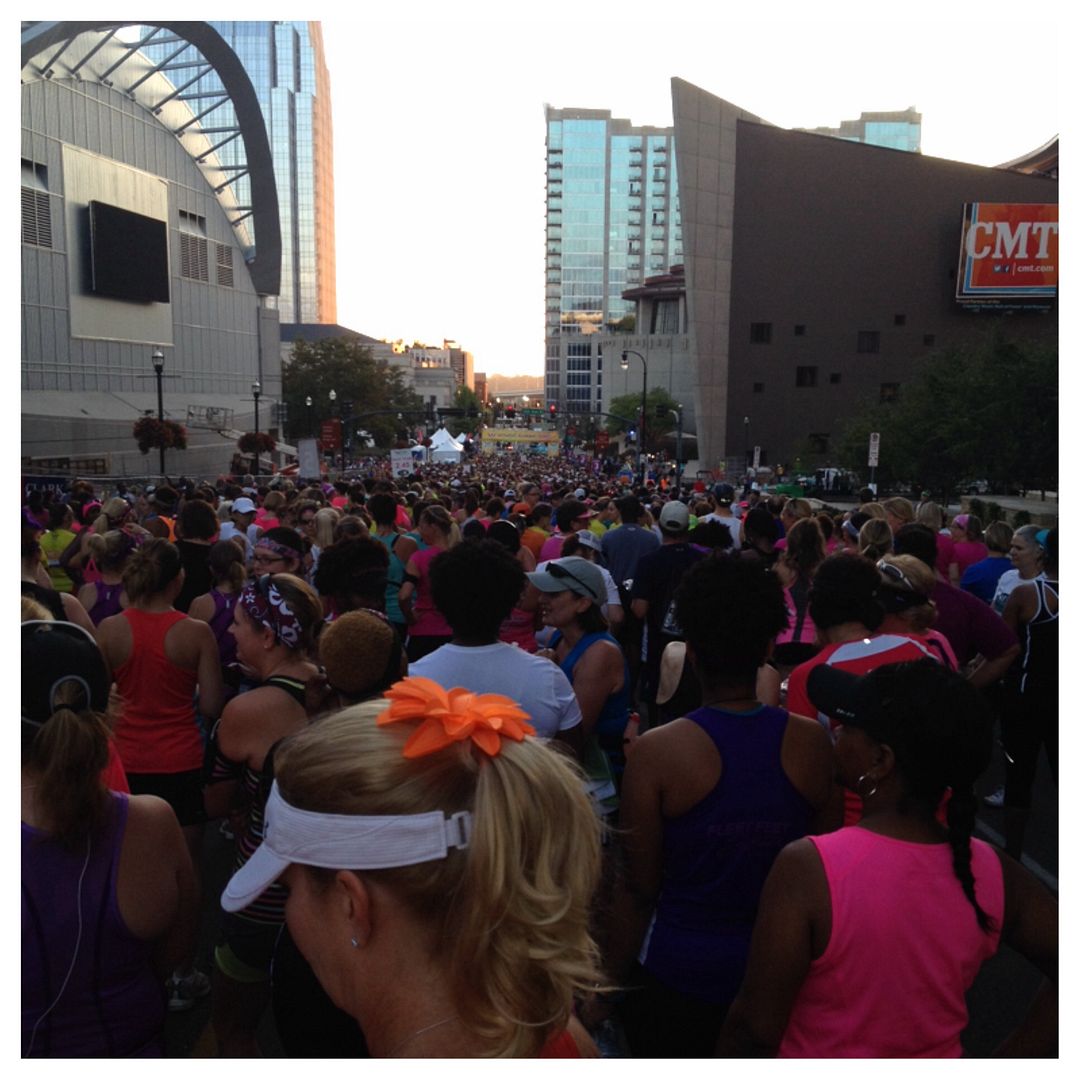 Mile 1
I started my garmin right as I stepped across the start line. The first few minutes of the race were a blur of bodies, not unlike the zombie apocalypse, coincidentally. The 3:00 hour pace group was right in front of me so I decided to try to stick with them/keep them in sight for as long as possible even though I trained for a slower time.
For most of the first mile my interval running plan went out the window. There were quite a few downhills and flats in the first mile and I hated to take walk breaks during the "easy" parts of the first mile. Nashville is super hilly and my instincts told me it would be better to run more on the easy parts in case I needed longer walk breaks on the tougher uphill portions of the course.
I spent a lot of time in the first mile weaving around people who were going slower than me. When I signed up for the race I said that my estimated finish time was 3:30 because my main goal was just to finish under 4 hours, not to finish fast. It wound up backfiring because they placed me in the very last corral with walkers. I was clearly never planning to run fast, but a lot of the people in my corral were doing 18 minute miles and apparently a few of them decided to line up in front of the faster people in the corral. It was a bummer, but by the end of the mile I had made my way to where the other interval people were hanging out and I tried to stick there. According to my Garmin I finished mile 1 in 14:19.
Mile 2
In mile 2 I found a few people who were doing intervals too and used them as my rabbits. When they did their run intervals they would jump ahead of me, but when I did my run intervals I passed them. It was a good mental distraction and before I knew it I was at the first water station. I was carrying my 20 ounce handheld bottle and I hadn't really started to drink from it yet since I had so much water before I left home. I wound up skipping the water at the first station and just kept going. I finished this mile in 13:10.
Mile 3
Mile 3 was one of my favorite miles. There was a partial loop of Centennial park and gatorade at the water station. I stayed focused on getting to the 5k marker and I finished this mile in 13:57.
Mile 4
This is where it started to get hard. Once we left the park there were a lot of uphills. I tried to stick with the 1 minute run, 1 minute walk intervals I did for training, but running uphill is just exhausting. Around this time the sun was starting to get hot and I found myself dreading the patches of light that the trees didn't block out. I finished this mile in 14:04.
Mile 5
I think this was the mile where we ran through a neighborhood that had been blocked off for the race. A few of the people who lived in the neighborhood were sitting outside their houses cheering as people passed and a little girl gave everyone high fives as they went by. A man was like "5 miles down!" when I passed, but that just made me think of the 8 miles I had left. I kept pushing and I finished in 13:58.
Mile 6
At this point I had been trying to keep up with a group of runners wearing tutus for a mile-ish. There were three or four women and a guy (who was also wearing a pink and purple tutu). I have no idea who they were, but following and trying to pass them every now and then got me through most of mile 6. I finished in 13:58.
Mile 7
Mile 7 was disappointing. I was going strong until disaster struck and I had to stop at the port-o-potties. I had to wait for a couple of minutes for one to open and then it was a major struggle peeling my sweaty capris off so I could squat over the toilet and try not to touch anything. Anyone who knows me knows that I hate port-o-potties with a fiery passion and this one was no different. This experience was almost as bad as the traumatic port-o-potty experience I had one summer at a music festival. On top of the gross factor, my garmin went to sleep while I was fighting with my capris and I didn't notice it for at least 1 minute after I started moving again. Since my garmin turned off I have no idea how long I was in the port-o-potty and how many minutes that little detour added to my time, but I supposedly finished this mile in 13:38.
Mile 8
Everything started to go downhill at this point. Since I lost 5+ minutes with my bathroom stop, I was no longer with the interval groups that had kept me motivated during earlier miles. On top of that there was very little shade in this mostly uphill mile. The ice in my water bottle had long since melted and the water at the water stations was not even remotely cold. It was the most miserable mile by far and when I made it to the next water station I made the mistake of taking one of the chocolate Gu packets they were giving away. I was so tired at this point that I would have eaten just about anything they had handed me because I needed the energy, but trying a new energy supplement on race day is ill-advised. The Gu kind of made my stomach hurt and after I took it I spent the rest of the mile regretting it since I got a nasty side cramp sometime before mile 9. I finished the mile in 14:56. The only reason I kept going at this point was because my car was down near the finish line.
Mile 9
Mile 9 was largely uneventful. There were police officers manning most of the intersections and I kept my mind busy by looking for cute ones. There weren't any so I occupied myself by trying to pass a tiny woman who power walked past me every time I stopped running and a really tall woman whose long legs allowed her to cover more distance in every stride than my short chubby ones. It wasn't as good a motivator as the tutu group, but beggars can't be choosers. I finished this mile in 14:17.
Mile 10
I was really getting sore at this point and it started to seem like the mile markers were getting further and further apart. I made myself keep going because I had passed the straggler van going the other way during the out and back portion of the course. At that point it had been nipping at a walker's heels. Everyone clapped for her as we ran past and I decided to keep moving so that the van didn't come for me. During mile 10 I kept thinking about that van chasing that woman down like zombies chase the characters in the Walking Dead and I decided right then and there that no matter what, the zombie van was not going to eat me. I finished mile 10 in 14:43.
Mile 11
At this point I was so close to the finish line I could taste it. I started wondering if there would be cold water there and I thought about how proud I was going to be when I crossed the finish line of my first half marathon. When, not if. Because at this point I knew I was going to cross that finish line even if it meant I had to drag myself the last two miles on my stomach. I finished this mile in 14:28.
Mile 12
This was another unshaded mile. It felt pretty hot in the sun and I had to dig deep to get through this mile. I kept chugging along and finished the mile in 14:51 even though it felt like I was going much slower.
13.1
Some sadist thought it would be a good idea to put a bunch of hills and unshaded space in this last mile. so I occupied my brain by cursing their name and wishing them ill. I kept checking the distance on my garmin so I could guess how close I was to the finish line. There were also several race photographers in this mile, of all places, so I tried to smile for the camera and look like I was running and happy about it even though I was actually sore and couldn't get the thought of lunch out of my mind.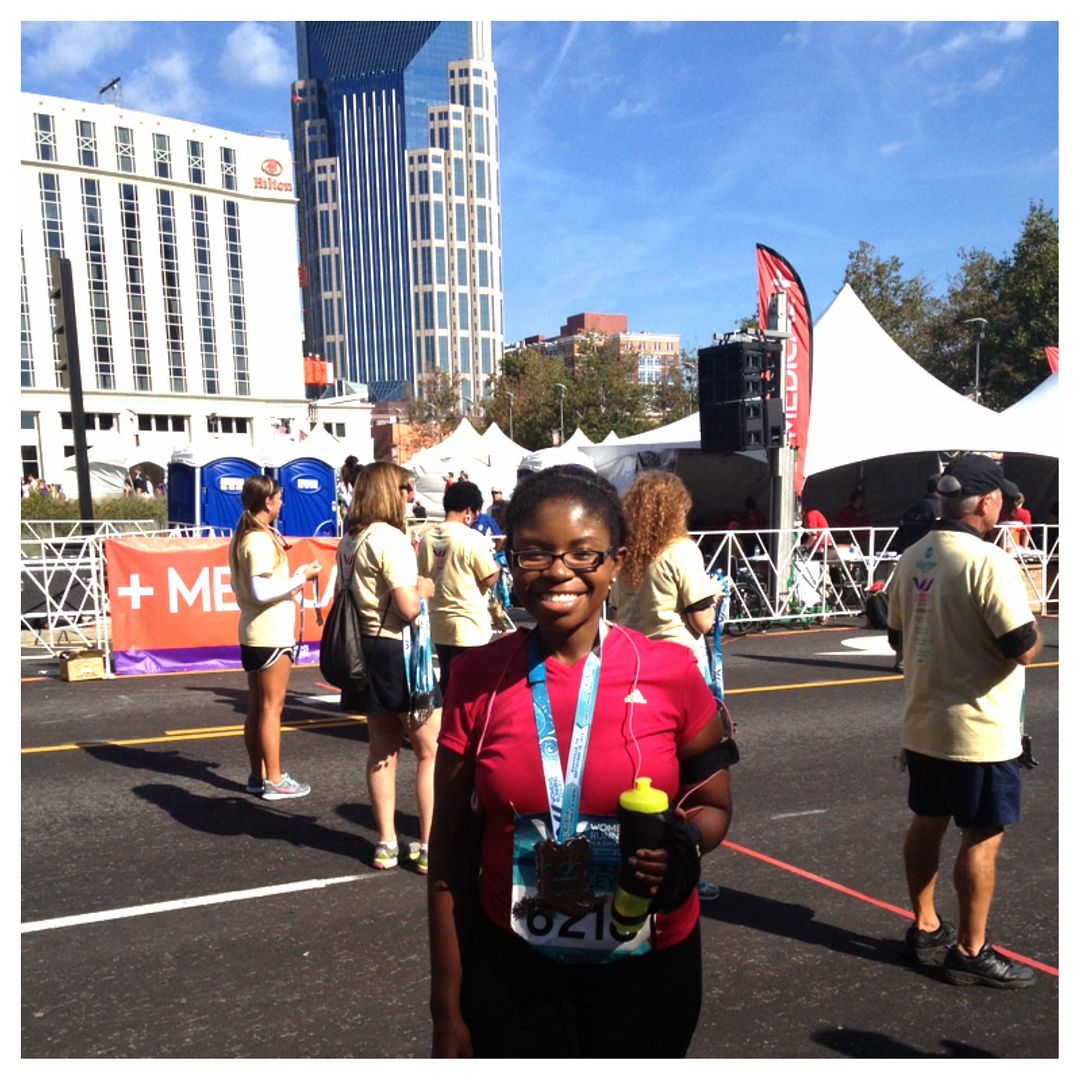 By the time I rounded the corner and actually saw the finish line at the bottom of a small decline, I was exhausted. I kept telling myself to dig deep and run the rest of the way to the finish line. Right before the finish line there was an announcer who gave me a high five and announced my name as I ran the final steps across the finish line. I didn't know it yet because I still had music blaring in my headphones, but as I took them off so that I could get my medal, I realized that one of my Aunts was there screaming my name. I laughed and wandered over so she could take the picture above of me with my medal.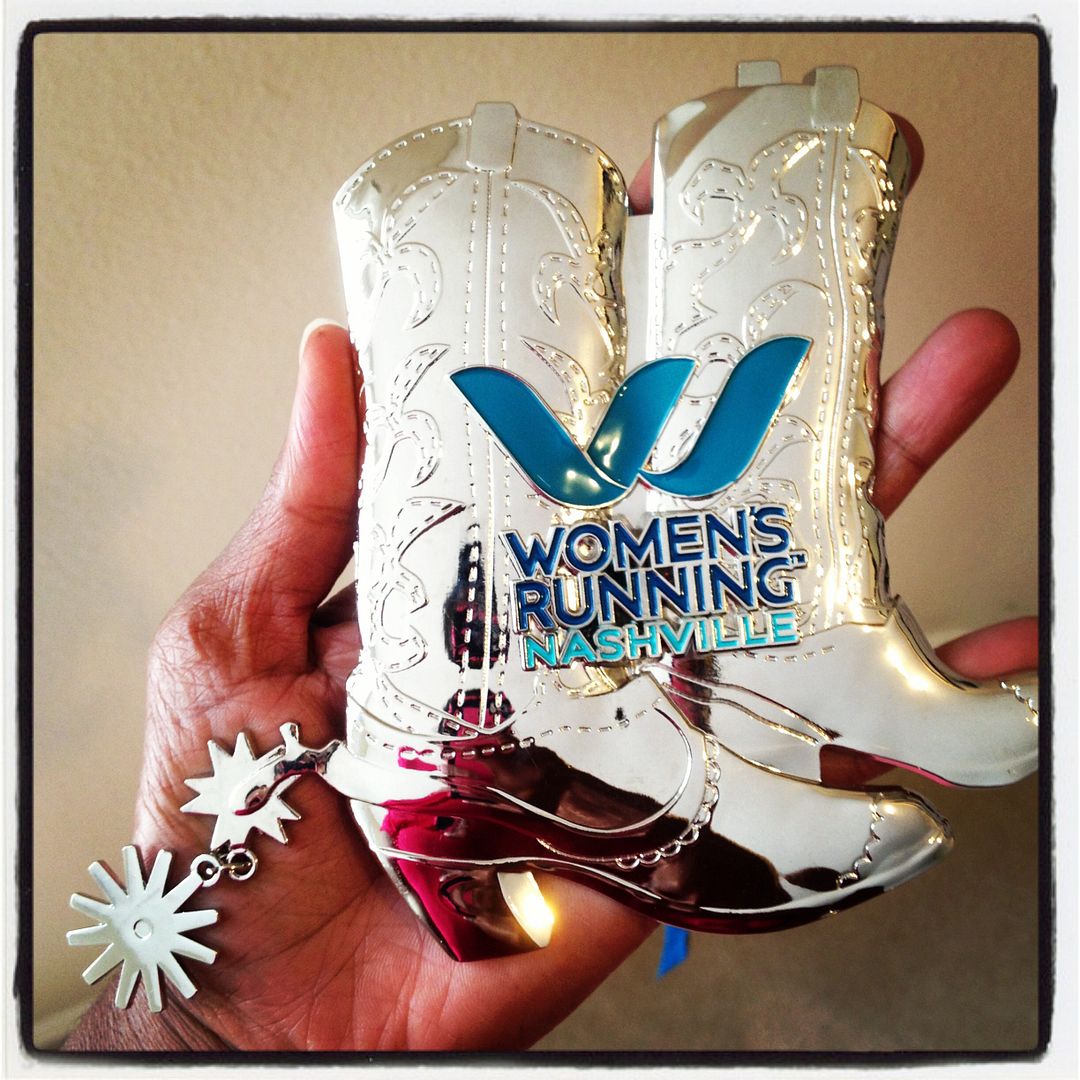 I don't know what my official time was and quite frankly I don't care. I finished a half marathon today and that is far more than I could have done when I started this journey. I am better now than I was, and I will get better still. I hung out with my Aunt at the finish line for a while and then I headed home to enjoy the taste of victory. It's a taste I could get used to. It sure is sweet.