This week felt incredibly long and next week promises to be even longer. Since it's the beginning of the school year and my last year of law school, there are a million things that have to get done and not enough time to do them. I'm trying to get everything done, but lately I've just been feeling tired.
The stats above are from yesterday's run. The 6.58 miles is for the whole day, but the 62 very active minutes reflects the 3.52 mile run/walk I did after my first class. I started walking to class last year instead of driving. When it's cooler out, the walk is really pleasant, but it's still hot in Tennessee and lately my daily walks have been more draining than refreshing. By the time I got back from my first class, all I really wanted to do was lounge around in the air conditioning. Instead, I got on my running clothes and made myself head down to the gym before I had to be back at school. I made it through the 3 miles and hurried back upstairs to get ready for my next class. I didn't want to be late so I rushed through my shower and got dressed. Then I checked my email and found out that class was cancelled. You would think this turn of events would make me happy, but when law school classes are cancelled, the professor always holds a makeup class, generally at a really bad time like during the weekend. On top of that, I was already dressed. I didn't want to feel like I had gotten dressed for no reason so I went to Trader Joe's. It was a zoo at that time of day, but at least I managed to check an errand off my to do list.
When I got back from the store, the water pitcher I ordered earlier in the week was waiting for me. I went to change the filter in my old water pitcher earlier this week and couldn't seem to get the new filter to fit properly. As a result, my water wasn't being filtered properly. Hiss and boo. I probably drink a gallon of water a day so not having a functioning Brita pitcher was a trial. It's nice to be back in the land of the well-hydrated.
Earlier this week, wearing a thrifted dress :)
By the time I got out of class today, I was exhausted and I needed to do something soothing. Most of you probably don't know this, but before I started blogging here at Downsizing, I wrote a style blog called
My Fashion Confession
. I loved writing a style blog, but when I gained weight, I outgrew most of my clothes. I'm back to my pre-law school weight now, but since I've taken up running the shape of my body has changed and I seem to have less body fat than I had the last time I was at this weight. In any case, my old skinny clothes are mostly too big for me now so I decided to spend my afternoon doing something I used to love when I was writing My Fashion Confession: thrifting. I headed to one of my favorite local spots and spent a happy afternoon perusing the racks for a few new to me pieces that actually fit my new body. It was a massive success.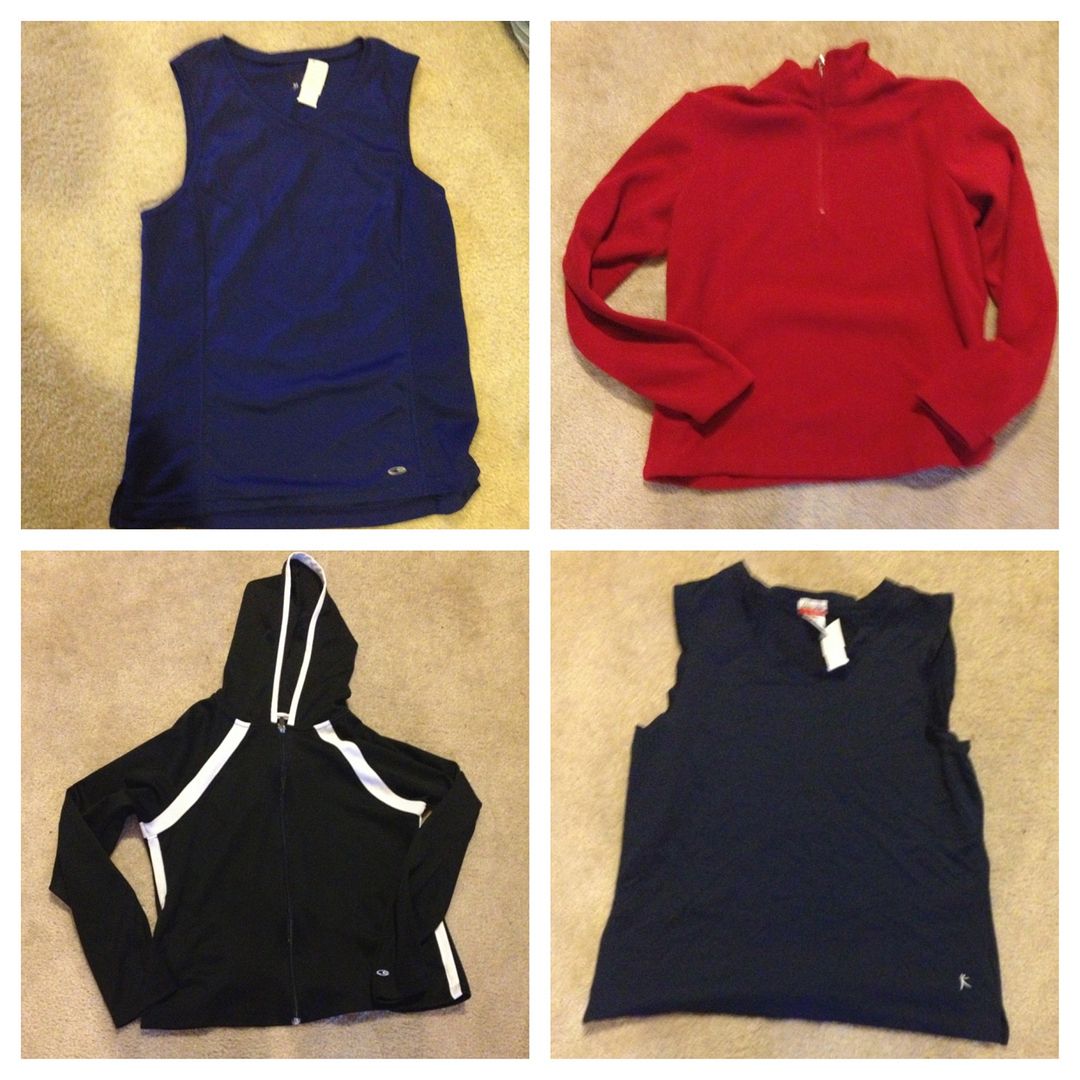 I found a few new tech tops to run in now and some great cold weather running gear for when Tennessee realizes that September is, in fact, fall.
I found some tops and a dress that I think will work now with sandals and later with boots.
Jackets! At $2.50 each I was over the moon about all of these. That grey one is going to be adorable with some skinny jeans.
I could wear the striped dress now, but I think it will look better on me when I lose about 5 more pounds. I went ahead and bought it because it's a cute dress and thrifting is hit or miss. Sometimes you go and find everything. Sometimes you go and find nothing. At $4.00 each I figured it wouldn't be a huge loss even if I never wear the thing.
These fit and were the right length, so I snagged them. This is the first time I've ever found a pair of jeans I liked while thrifting. Usually they are too long, too short, the wrong wash, or too ugly to wear when it's not Halloween. These jeans, however, were Sisterhood of the Traveling Pants-esque in their perfectness. If you don't get that reference I'm not sure we can still be friends.
After three hours, I left the thrift store $44 poorer, but in far better spirits than I went in with. I will be spending the rest of the evening putting down roots in the living room floor and going to bed early. I'm thinking Netflix. Who's with me?