As far as tempo runs go, this one went pretty well. Not long before this run, I made a bad life choice at Starbucks in the form of lemon pound cake and sweetened green tea. I'm guessing I have all those extra calories to thank for making this run so successful. Even with my walk breaks, I think the first mile was my fastest ever!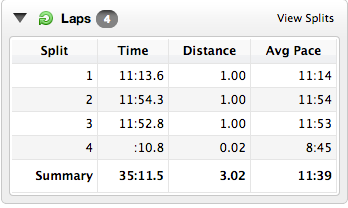 During the first mile I challenged myself to do all the running intervals at 6.1 or higher. I know most runners can finish whole marathons at that pace, but for me it still feels crazy fast. I finished mile 1 with the running intervals at that pace, but after mile 1 I started doing my running intervals at 5.6 or faster because the first mile was so exhausting. Hopefully if I keep doing my tempo runs at that pace it will eventually start to feel easier.
I also got a package today with my copy of The Lemonade Cookbook. I don't think it has officially been released yet, but the publisher was looking for people to review it. I happily agreed. The book contains recipes from Lemonade, a restaurant in LA. I've only skimmed through the pages so far, but everything sounds delicious. I'll have to find a few of the simpler (Ashley-proof) recipes to try out before I write a full review.