After four straight days of running, I needed a rest day. I still did a lot of walking around campus to get to class, but no running clothes got sweaty in the process. Mondays are always pretty busy for me so my rest day turned out to be fairly exhausting. Such is life, I suppose.
This was a step down week on my training plan so my long run was only 6 miles. Lately I've been letting myself get a long run treat, but I did my long run on Sunday this week and I didn't get anything because the bakery I wanted to go to was closed. I decided to get myself a long run treat today instead, but was too lazy to drive to my favorite bakery. I did go to Starbucks and got a cheesecake brownie, though.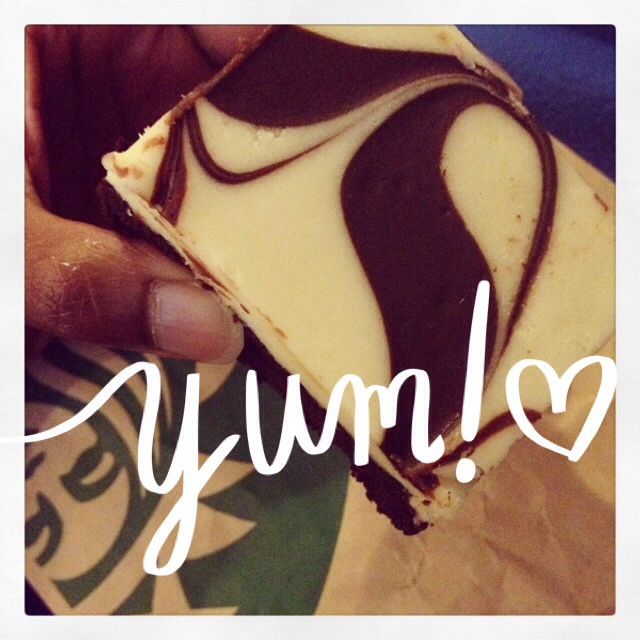 It was good, but I'm starting to get a sore throat and the chocolate kind of burned going down. On top of that the brownie seemed small. I was annoyed that such a small brownie had 300 calories and started wishing not for the first time that the world worked according to Ashley so that I could make all desserts low calorie, I would only lose weight in my problem areas, and if I gained weight at all it would go straight to my boobs. This line of thinking was somewhat soothing and when I snapped out of of my daydream I reminded myself that if I run hard during my eleven mile run this weekend I can earn a more satisfying treat.
In other news, I went a little social media crazy over the weekend. I finally got around to making a Facebook page for my blog which you can find
here
. So far I've been posting food/fitness related articles that might be interesting, links to my latest blog posts, and trying to figure out how to make my Instagram app post pictures directly to my blog's page instead of my personal account. I also started working on building my
Twitter
and
Instagram
following. I mostly just convinced myself that I have no idea what I'm doing in the world of social media, but I thought I would mention my trip on the struggle bus it in case anyone is interested in following and/or has tips or tricks for how to use social media in conjunction with a weight loss and running blog.