The first thing I did when I woke up yesterday was jump on the scale. My weight has slowly been coming down since I started training for the Rock 'N Roll New Orleans Marathon nine weeks ago, and I wanted to stay accountable on Thanksgiving. I thought the best way to do that would be to start back posting regular scale pictures again. So, here we go:
As of yesterday, I am at 148.2 pounds. My goal is still to get to around 130, so I have a long way to go before I am at my goal weight. I had planned to run 7 miles on Thanksgiving so that I would have a bit of a calorie buffer, but when I logged onto Facebook, I saw a post about the
2013 Runner's World Holiday Running Streak
and I decided that participating would be the perfect way to stay on track this holiday season.
A running streak is where you run at least 1 mile per day for the duration of the streak. Sorry to disappoint the folks who thought this was the no pants party kind of streaking ;). The Runner's World Holiday Running Streak runs from Thanksgiving Day to New Year's Day, so that means that I need to run at least 1 mile everyday until New Year's Day. Of course, I will still be following the Hal Higdon Novice 2 Marathon training plan, but instead of taking rest days off, I will be doing short 1-2 mile runs at an easy pace.
The Holiday Running Streak began on Thanksgiving Day with a frigid 7 mile run. I waited as late as I could to start, but the feels like temperature was still 14 degrees. I wore my last pair of long running tights, a tech shirt under a warm running hoodie, two pairs of gloves, and a headband over my ears. My body was warm enough, but my fingertips still felt cold for the entire run. I saw several runners in the park wearing shorts and it blew my mind a little bit. They must be from somewhere far colder than Tennessee to think feels like 14 Fahrenheit is shorts running weather!
I spent the rest of Thanksgiving driving home and hanging out with my family. As expected, it was a day full of temptation. I didn't have time for a post-run snack before I got on the road and even though I ate a Larabar when I got to my grandmother's house, I was starving by the time the food was ready at 2:30 or so. I wish I could say that I fully stuck to
the plan
, but a few things I didn't intend to eat wound up on my plate. I got a spoonful of chicken and broccoli casserole, a scoop of mashed potatoes, a dinner roll, a sizable scoop of sweet potatoes, a small scoop of macaroni and cheese, some turkey and ham, a tiny bit of my cousin's strawberry, pretzel, and cream cheese dish, and a slice of cheesecake for dessert. I was not proud of myself, but the meal wound up being lunch and dinner since I wasn't hungry when I got home. I certainly ate smaller portions than I would have gotten before starting this journey and I didn't bring any leftovers home when I left. That is definitely an improvement of years past!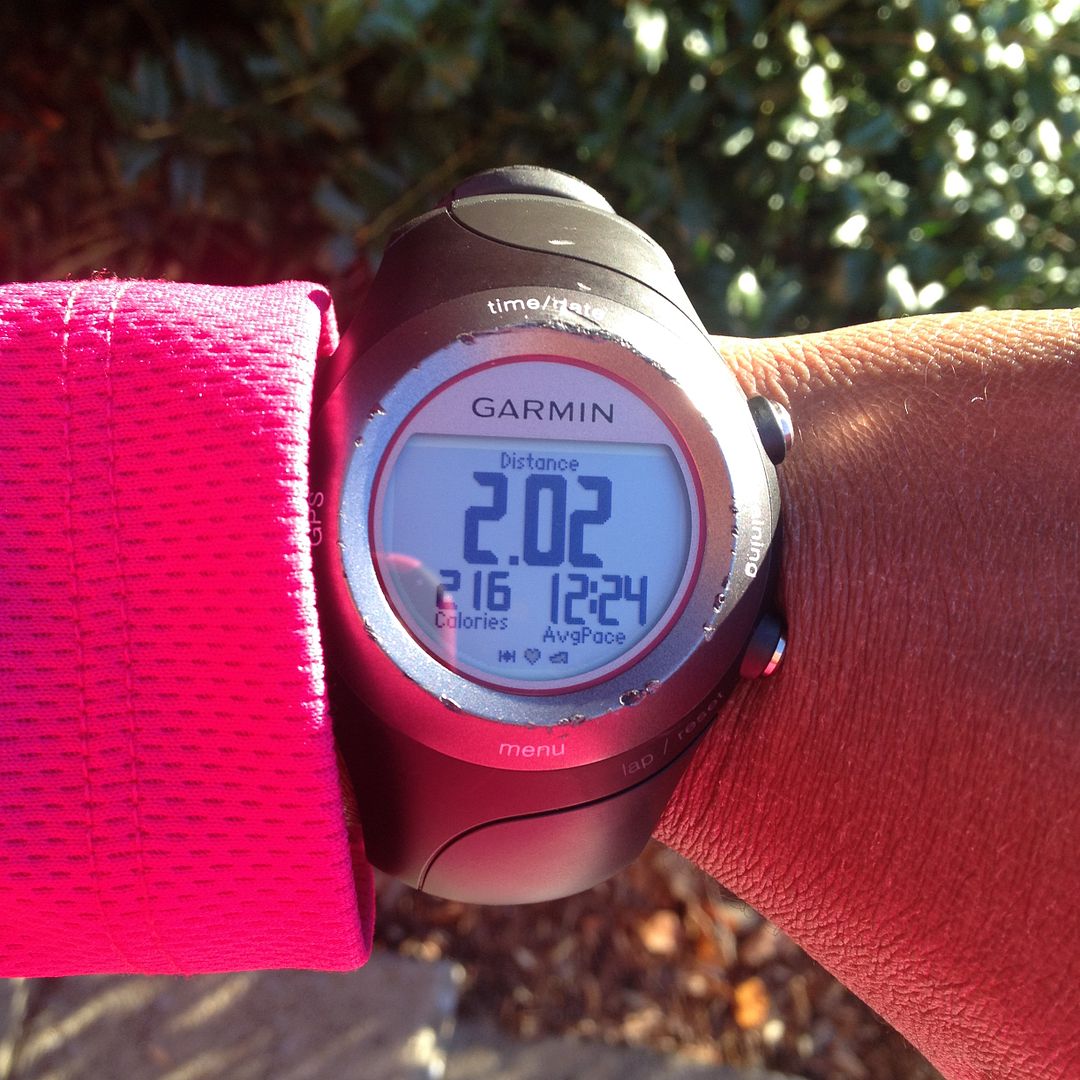 Normally today would have been a rest day, but I needed to run at least a mile for the Holiday Running Streak. I had no intention of braving the morning cold, so I waited until after lunch. My legs felt heavy. I thought about doing 1 mile and calling it quits, but I made myself run 2 since tomorrow's long run is only 13 miles. I stuck with the 2 minute run 1 minute walk intervals again.
I tried not to pay attention to my time while I was running, mainly because I felt like I was running even slower than usual and I just didn't want to see the evidence of it on my Garmin. I was really surprised when I got home and looked at my splits. No wonder my legs felt heavy--I was running way faster than my comfortable pace! I think it will be interesting to see if and how long I stick with the Holiday Running Streak. Their idea was to get people through the holiday season without weight gain. Maybe if I keep reminding myself that I'm doing this to avoid weight gain I will be able to make it all the way through. Is anyone else participating in the 2013 Runner's World Holiday Running Streak?