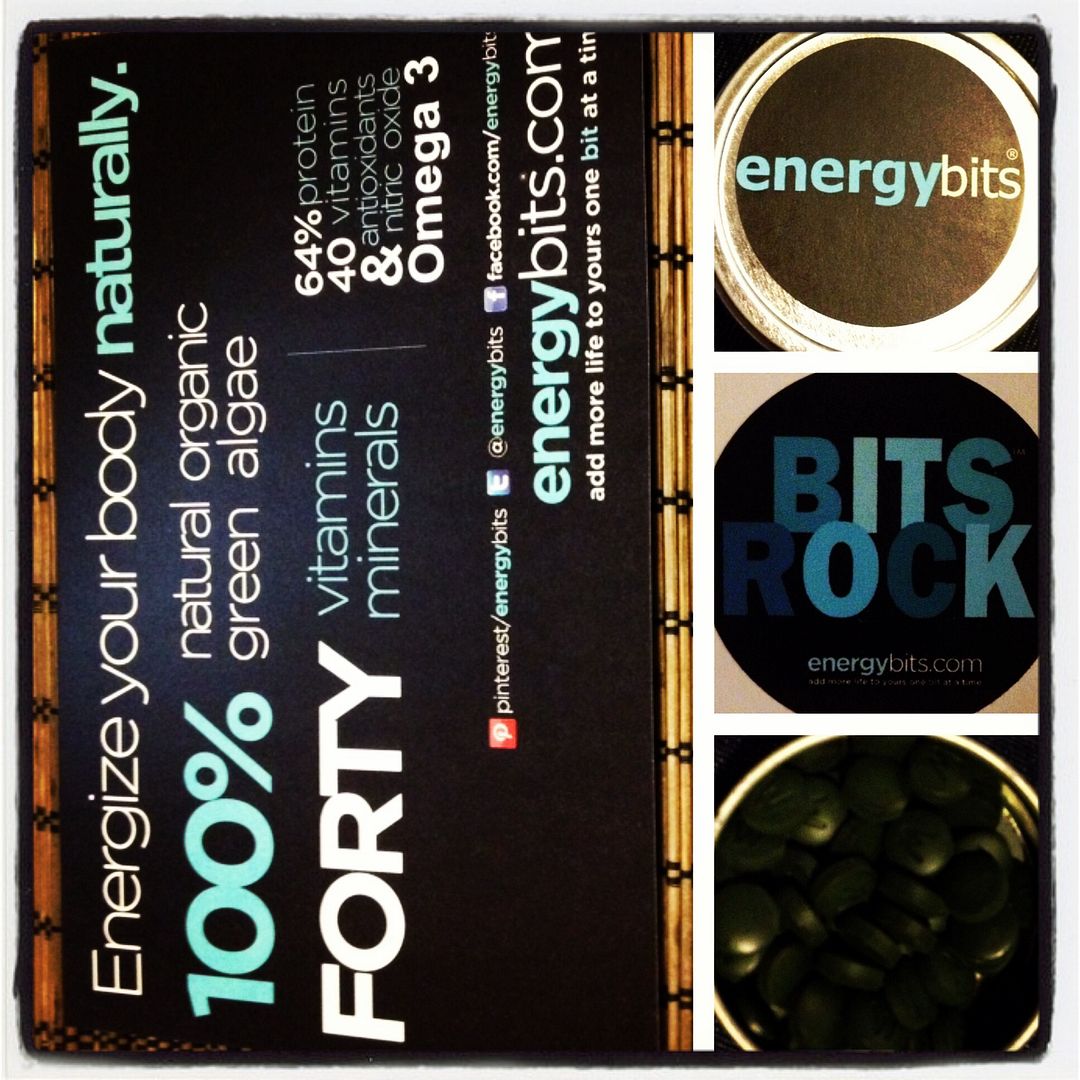 Recently, I was offered an opportunity to review an energy supplement called Energybits. They're basically these little spirulina algae tablets that you can take before or after workouts. I was initially attracted to them because I liked the idea of a plant-based energy supplement. After checking out their website, I learned that the bits don't have caffeine, chemicals, or sugar, that they have protein, and that they are only one calorie per tablet. The company also says that Energybits improve energy, clear your mind, eliminate fatigue and hunger, cleans out toxins, speeds recovery, reduces inflammation, and helps build lean muscle. It all sounds really sexy and awesome, but the skeptic in me wondered how much of it was true. I thought today would be a good time to share my thoughts about the product with you.
The sample they sent came in a little tin sort of like the ones used for mints. I'm not sure if you get a little tin when you place a larger order, but I thought the tin was great for athletes on the go who might want to carry extra Energybits with them in a belt on race day or keep a stash of them in a purse or in the car.
The Energybits themselves are basically these little green pills. You take them by swallowing them before or after you workout. Technically the company said it was okay to chew them, but I learned the hard way that it's okay to chew them like it's okay to chew up some non-chewable medications. It might be safe to chew them, but it will be foul and you will probably regret it. Energybits taste pretty awful when you chew them and they stick to your teeth so it's really hard to swallow them once chewed. I thought they tasted the way aquatic pet food smells. Just trust me on this one, kids. Don't chew, swallow.
I wound up taking about 8 Energybits before heading out for a run. I did notice that I had more energy after I took them. It was the kind of refreshing energy you get after a nap which was nice since a lot of energy supplements with caffeine leave you feeling awake but jittery. The downside was that not long after starting my run, my stomach started bothering me. I can't say for certain whether it was the Energybits or something else, but I didn't really do anything different other than take the Energybits.
The bottom line is that if you are looking for a natural energy supplement, Energybits might work for you. I really did feel like I had more energy after I took them and I never really had that energy crash you get when you take other energy supplements. Unfortunately, getting a stomach ache not long after taking them made me nervous about using them for workouts. I probably wouldn't take them before a run again, but I might give them another shot when I need some energy for a long night of studying.
**Energybits sent me a free sample of their product to use for the purposes of this review. I was not compensated for this post, though, and all opinions expressed here are solely my own.**