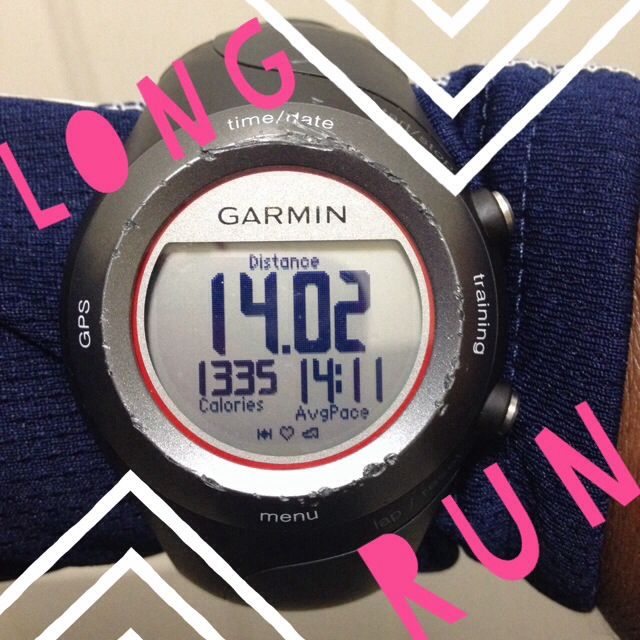 This morning, I had 14 miles on the schedule. For everyone keeping score at home, that is my longest run ever. I've been nervous about it all week, and I was still nervous when I got up this morning. I couldn't decide what I wanted for breakfast and wound up settling on pancakes. After that I filled up my hydration pack with ice water and tossed in a couple of Nuun tablets for good measure. I checked the weather before I left and wasn't happy with what I saw. The temperature was in the 50s by the time I got outside, which is about ten degrees hotter than I like my running weather, and when I stepped outside the air was heavy with the threat of rain.
I decided to get going and hope that the rain held off until I was done running. It was a really hard run. I did the lion's share of the 14 miles in a local park. I always think running in that park will be a great plan because there are fewer cars and it is relatively flat once you get into the park. I have a very selective memory. If you don't get in and out of that park early, you will have to deal with the people who flock to the park for events later in the day, people who generally get in the way of the serious runners, walkers, and everything in betweeners.
Today's irritation was this group thatappeared to be filming a video for a children's song. A stupid one. In the middle of the running path. They were this random group of children, their parents, and a low-budget camera crew and they basically commandeered a section of the one mile loop and wouldn't let the runners through. I don't know if they actually had any business being there, as in a valid permit from the city and permission from someone other than themselves. All I know is that every time I had to run through the parking lot or on the side of the road to avoid their foolishness, it made me cussin' mad.
When they finally left I thought I was in for a few more peaceful miles in the park. I thought wrong. No sooner than the first group of park interlopers left, a group of people doing some sort of charity walk took to the path. Fortunately they didn't seem to stay for very long. Unfortunately, by that time there were a ton of tailgaters in the park with their smokey grills and it was really hard to breathe every time I ran past them.
My irritation gave me something to focus my attention on other than my sore muscles, and I guess I should be thankful for that. On the other hand, I spent my run annoyed at the people of the park. Gotta love them introvert problems.
Up to this point I haven't really focused on fueling for my runs because one of the owners of my favorite running store told me that I probably didn't need to eat anything during my half marathon. He's an experienced runner and running coach, so I figure he knew what he was talking about. Since I was running longer than a half marathon this week, I decided to start experimenting with eating during my long runs. I took one of my applesauce tubes with me and decided to eat half of it around mile 4 and the other half around mile 8. It worked out fairly well in terms of my stomach, but I think I might try a few other things before the marathon because I think carrying the applesauce tubes is going to be kind of bulky.
In any case, I finished all 14 miles. Check out my Fitbit stats for today: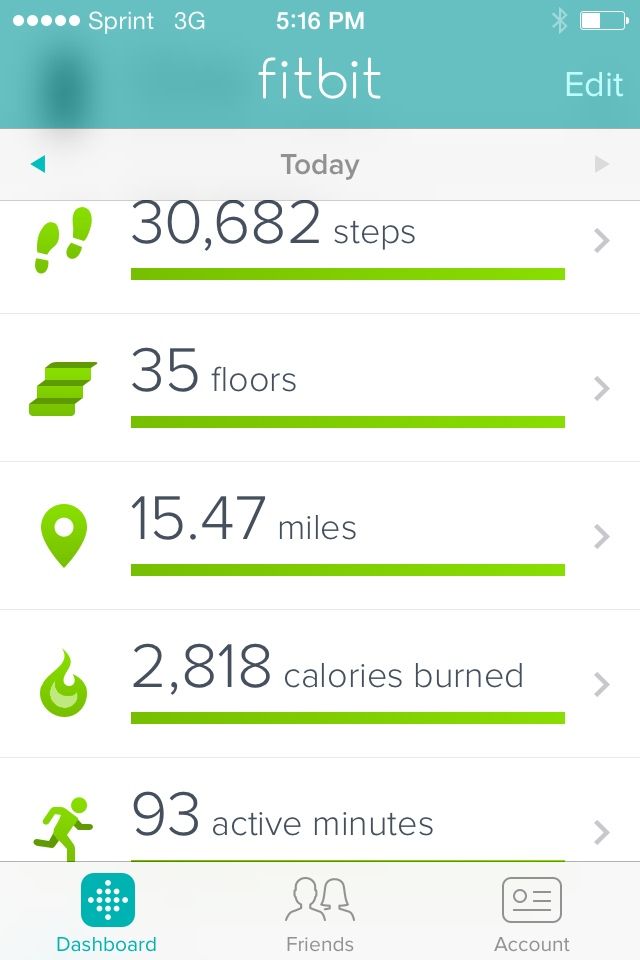 I have walked more than 30,000 steps in a day, but today I ran nearly 30,000 steps. I was kind of proud of myself since I used to aim for 10,000 steps per day total.
This wasn't a great run. I still felt pretty sore from
Thursday's fall
and I felt like I was struggling to make myself keep moving because it was so humid outside. I was not very happy while I was running, but I was certainly ecstatic that I finished. It felt really good to follow through with something I wasn't sure I could do. Now I just have to get through a 15-miler next week.