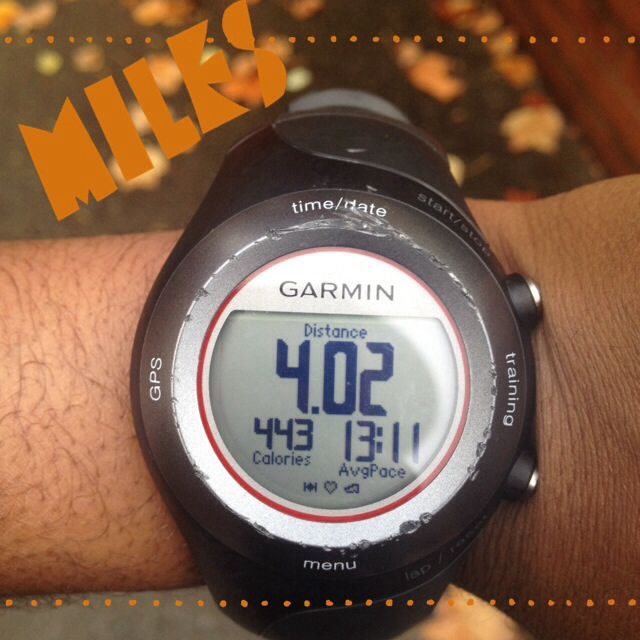 I was originally supposed to run a 5k today, but it was cancelled because we were supposed to get severe weather. I still wanted to get in my last short run of the week, though, so I waited for a break in the rain and headed out after lunch. It was still sprinkling when I left, so I wore a hat to keep the rain out of my face and I put my phone in a sandwich bag to keep it dry. I wasn't really worried about my clothes because I figured they were going to get wet from me sweating anyway. With the light rain, they would just get wet a little bit more quickly. No big deal.
I kept worrying as I ran that the sky was going to open up and pour at any minute so I did my running intervals a little faster than I meant to considering I ran
14 miles
yesterday.
Part of the problem was the other runners and walkers who were also out braving the foul weather. Every time I saw another runner coming toward me on the sidewalk, I made myself keep going or even speed up so that they didn't see me start my walk break. In the first mile I decided to try to catch and pass this couple that I saw walking their dog in the distance. Eventually I managed to run past them towards the end of one of my running intervals. Then I stopped running a few seconds later to take a walk break. I'm sure they thought I was crazy.
I hit two steep hills in mile 3 and they slowed me way down. The muscles in the top of my thighs started screaming at me and it took every ounce of willpower I had not to walk up them. I kept telling myself that I would appreciate those uphill miles during the marathon because they would make my legs stronger. Plus the Rock 'N Roll New Orleans marathon course is supposed to be really flat. If I can make myself keep going when I'm tired on a hilly course, I can definitely make myself keep pushing forward on a flat one. Oh marathon training. You are teaching me so many lessons in perseverance.