This might have been the busiest week I've had all year. That is why I did this run two days ago and haven't gotten around to posting about it until tonight. Fitting a 7 mile run into a jam packed week was not easy, but I needed every single one of these miles to de-stress and clear my head. I decided it was an audiobook kind of run so I just aimed for a comfortable pace that I could maintain for the whole run.
I'm currently listening to the audiobook version of The Storyteller by Jodi Picoult. All the Picoult books I've read have the same basic formula. The story is always about a group of characters who are grappling with a controversial situation and the story always unfolds from multiple perspectives so that the reader has a chance to see all sides of the controversy. The Storyteller is classic Jodi Picoult.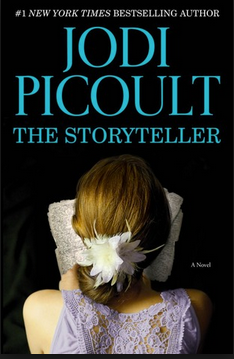 The main premise of the book is that Sage Singer, is a non-practicing Jewish woman who lives in modern day America. One day, a very old man named Josef Weber comes into the bakery where she works and they start to form a friendship. Eventually, Josef opens up to her about a terrible secret he has kept hidden for many years--he is a former Nazi. As if this admission isn't jaw-dropping enough, Josef asks Sage to forgive him and to help him end his life. So far, there are four main characters whose stories interweave to form the rest of the narrative. The modern story unfolds from Sage's perspective as she grapples with the fallout of Josef's admission and request. Josef tells the story of how and why he became a Nazi. Sage's grandmother, who was a young girl at the time of the Holocaust and who wound up in Auschwitz, tells her own story of survival. Finally, there is a fictional story, written by one of the main characters, that is essentially an allegory of what happened during the Holocaust. I know all of that sounds complicated, but it is easy enough to follow, and it has been an entertaining companion during some of my longer runs lately.
After getting in two mid-week runs, I felt a lot calmer about everything I had to get done this week. Example: I had a mock trial yesterday and even though I was not completely happy with my question outline and I could have spent the day panicking, I decided to curl my hair instead.
I'm glad I didn't spend anymore time worrying about it than I did. It was a pass fail assignment anyway and as it turned out I didn't need to worry. The whole thing went great, and other than the part where it ran five hours past my usual dinner time, there weren't any problems. Now if I can just get through my exams life will be great.
Oh, and just in case you missed my last post, I am giving away a free registration for the Hot Chocolate 15/5k this week. If you are interested in entering, you can find more details about how to enter
here
. The giveaway is open until November 24, 2013 at 11:59 PM.