Yesterday I managed to dawdle most of the day and finally decided to go for a run in the evening. It was equal parts wonderful and awful.
My right knee has been bothering me again, but the pain wasn't horrible so I decided to wear a brace and run slow. The run was awful because my knee hurt just enough to annoy me for the whole run. It was wonderful because the weather was unseasonably pleasant. Tennessee went from icy patches on the street cold one week to mid-50s and practically warm for December the next. As much as I enjoyed the return to fall temperatures this week, I kind of wish the weather would make up its mind. My throat is ever so slightly sore now and I have a feeling the abrupt change in temperature has something to do with it.
Before I started running I changed my Garmin so that I couldn't see my average pace. I thought this would help me run slower, but apparently not seeing my average pace is actually the key to speeding up. Oops. As much as I loved seeing those faster splits, it wasn't good for my knee and it was bothering me again this morning. Instead of running, I went to the gym and spent some quality time with my favorite elliptical.
We've been spending more and more time together since my knee has been bothering me. I thought the polite thing would be to introduce everyone. His name is Toby. He spends all his time at the fitness center so I guess you could say he's a gym rat. He's reliable and always lets me pick what we do, but he has a nasty habit of asking me what I weigh whenever we hang out. Rude.
I was craving salmon so I bought some when I went to Trader Joe's this morning. I wound up baking it for dinner.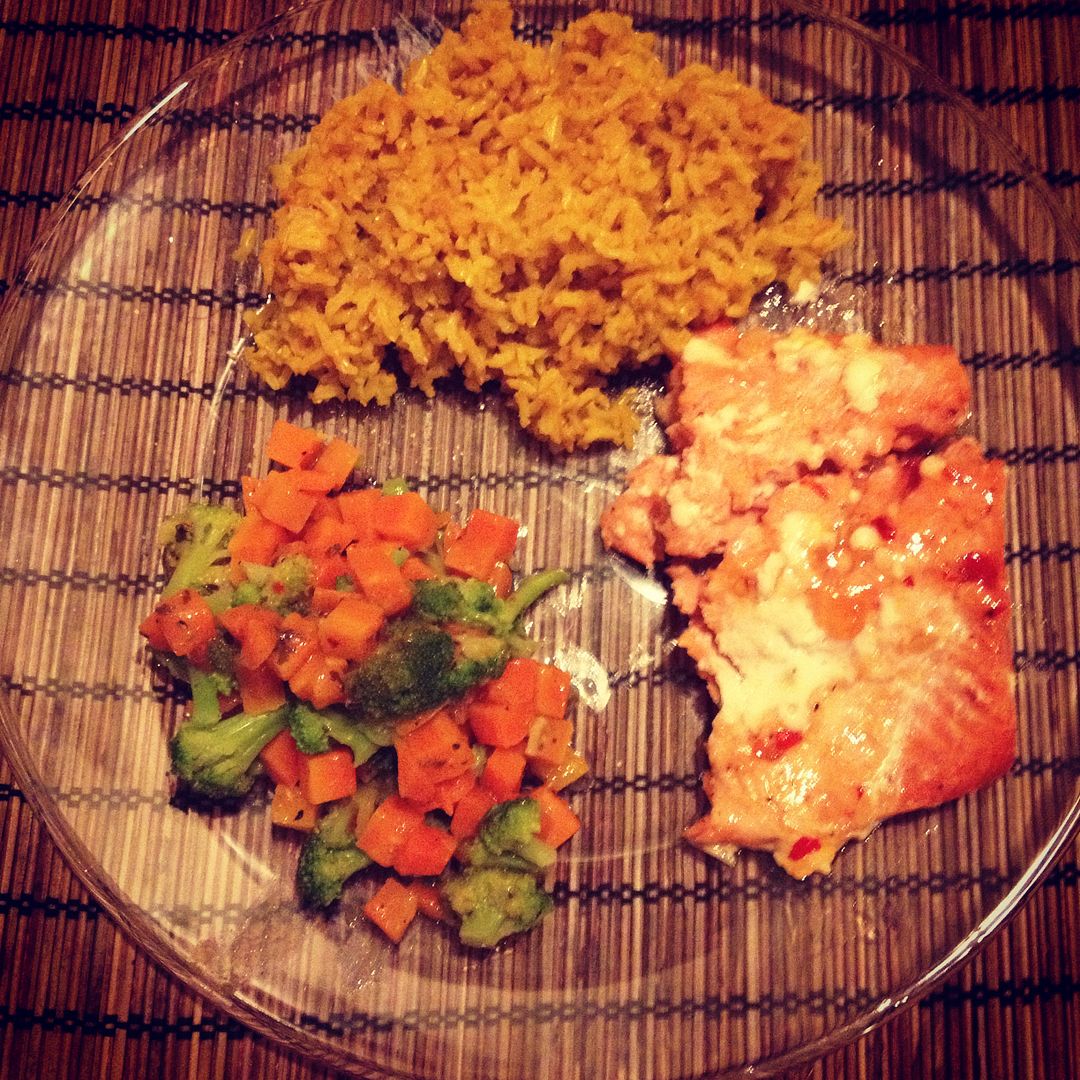 I was feeling lazy so I just coated the fish in Trader Joe's Sweet Chili Sauce instead of trying to think of something creative to do with it. I served it with brown basmati rice cooked in vegetable broth and a side of veggies. It wasn't my most exciting meal, but at least it was nutritious and healthy.
***
If you haven't done so already, there is still time to enter my Diva Cup giveaway, which you can find
here

.
The giveaway stays open until
December 22, 2013 at 11:59 PM Central. Diva Cup is a great product for all you ladies who work out!