Today, I spent 50 minutes at the gym and ate stuff. Okay, so I also started watching the last season of
Skins (UK version)
on Netflix. As a brief aside, if you haven't watched Skins, you are missing out big time. The show follows British teenagers during their last years in high school as they deal with everything from eating disorders to teenage pregnancy to death. After the first two seasons, you are introduced to a whole new cast of characters, and there is a new set of characters for seasons five and six as well. Most episodes focus on one character and by the end of each season, you have gotten to know each of the characters individually as well as together as part of the group. The series ends with a 7th season that revisits a few of the characters you fell in love with in the first 6 seasons. I've never seen another show quite like it (although there is a watered down American remake of the series that is nowhere near as good as the original.)
After spending my morning lounging around, I made a quick one pot (or one rice cooker as it were) meal for lunch.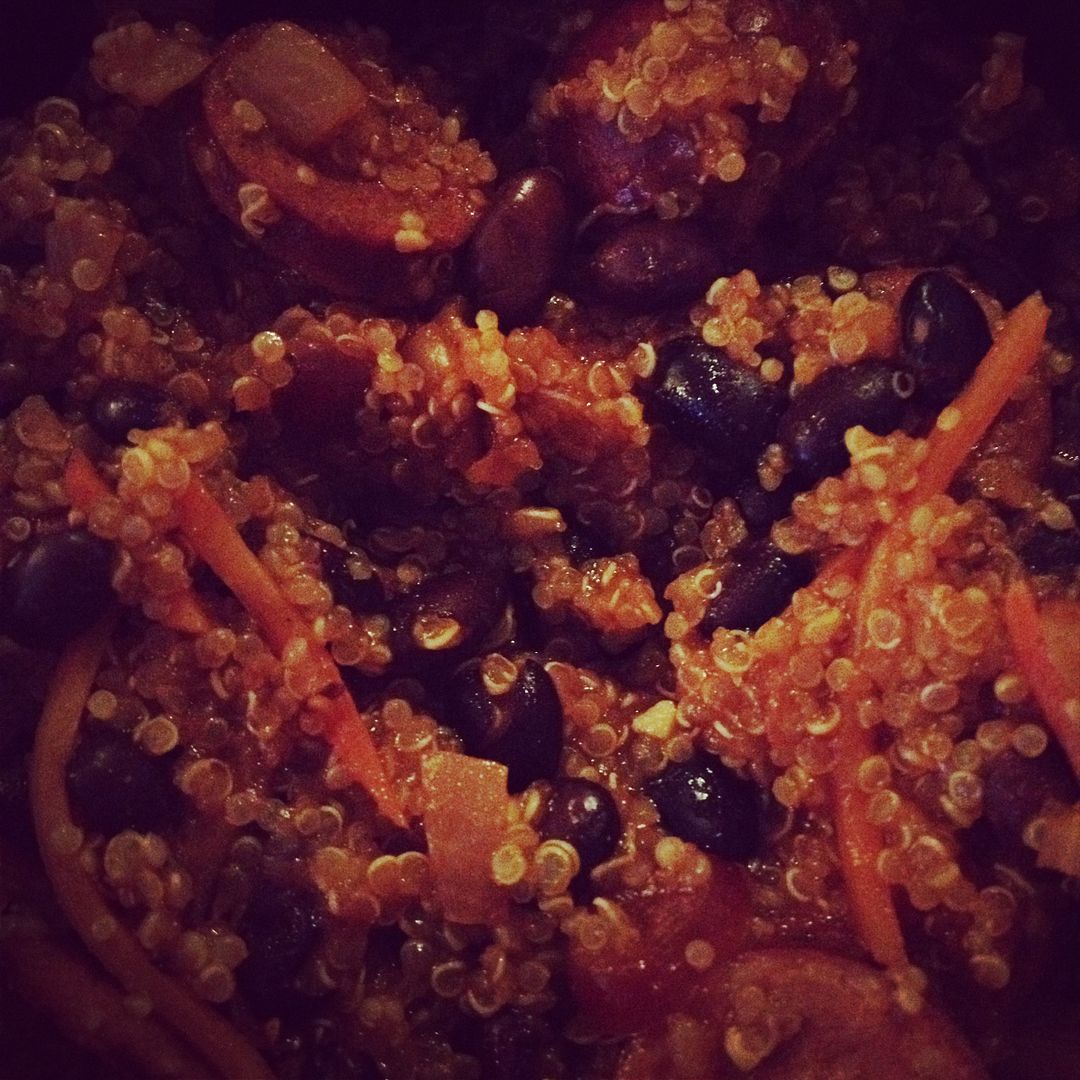 One of my aunts re-introduced me to quinoa while I was at home for Christmas and I've made it twice since I got back to Tennessee. This time, I added quinoa, black beans, shredded carrots, dried cranberries, red onion, and sliced chicken sausage to my rice cooker with various spices and enough water to cook the quinoa. When it was done, I was left with a hearty, healthy lunch and enough leftovers to last for a couple of days. I was tempted to have some of the leftovers for dinner too, but I kind of had a craving for pizza.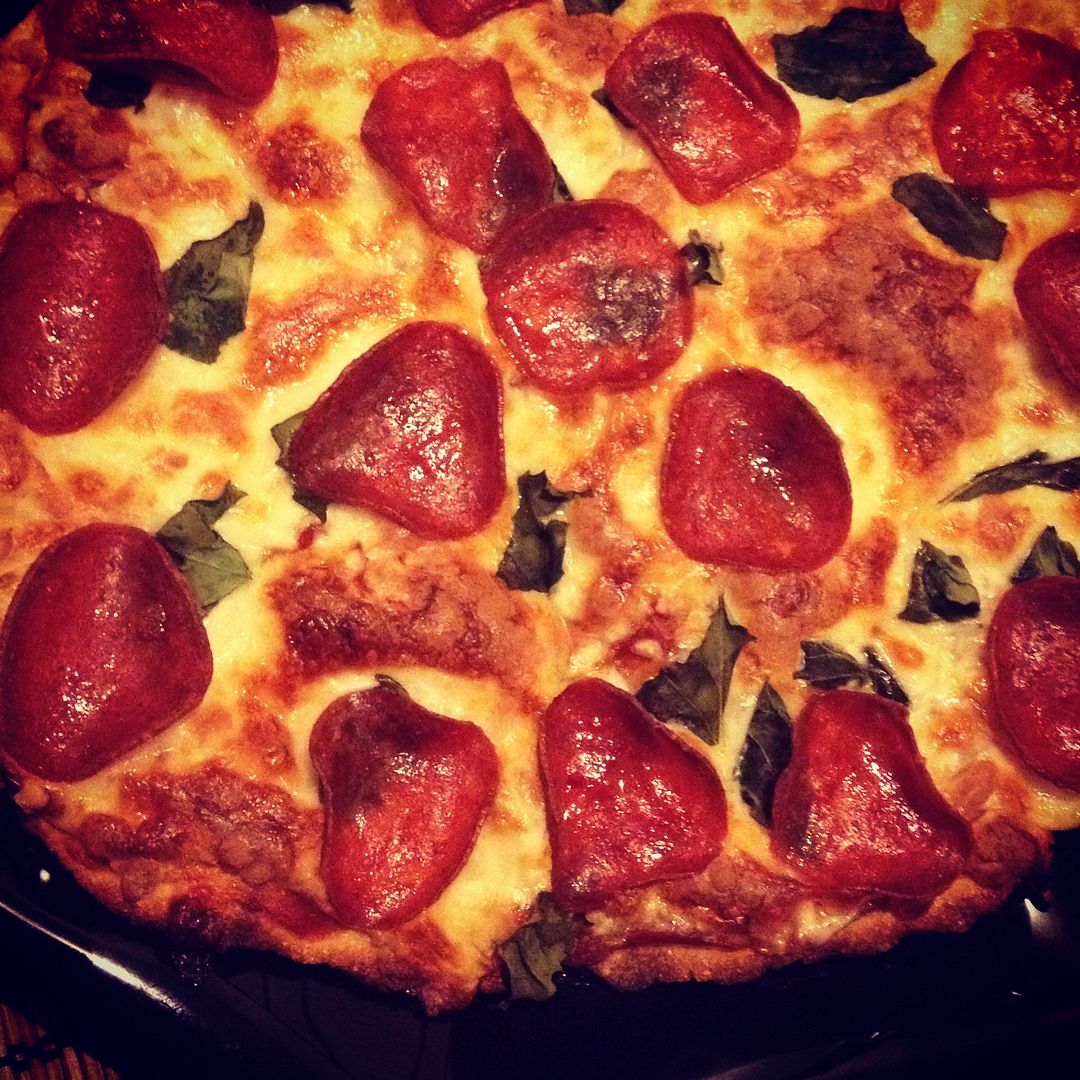 Yesterday I found a recipe for two ingredient pizza crust and today I left my warm apartment and went out into the cold wet universe to buy the necessary supplies. For the pizza crust you need plain Greek yogurt (I used non-fat) and self-rising flour. I wanted to make a whole wheat version, but didn't see a self-rising whole wheat flour. Instead, I planned to add baking powder and salt to the flour when I mixed up the dough because according to the internet, that is how you make homemade self-rising flour.
In true Ashley fashion, I forgot to add the baking powder and salt to the dough, but it didn't matter because I liked the end result anyway. I'm sure the dough would have puffed up and been prettier if I had remembered, but I was happy to know that the recipe works with or without self-rising flour. I flattened out the dough and pre-cooked it on my pizza stone for about 10 minutes in a 500 degree oven before adding fat free pizza sauce, light mozzarella, fresh basil, and turkey pepperoni and returning it to the oven for another 10 minutes. It was good. The Greek yogurt gave the crust a bit of a tangy flavor that went well with the pizza sauce and other toppings. I think the next time I make it I will add dried Italian herb seasoning to the dough and bake the crust a little bit longer, but other than that it was amazing.
In terms of quantities for the Greek yogurt and flour, my recommendation is this: start with 1/2 cup of Greek yogurt (I used one of those single serving Fage yogurts) and 1/2 a cup of whole wheat flour. Mix until well combined, then keep adding whole wheat flour a tablespoon or two at a time until you have a dough that holds together but is not sticky. From there, roll out your dough (or flatten it with your hands like I did) and pre-cook it for 5-10 minutes before adding your toppings. I know those measurements aren't very precise, but I followed a recipe that had me using way more flour than necessary and the next time I make this dough (and believe me, there will be a next time), I will be following this method instead of using their measurements.