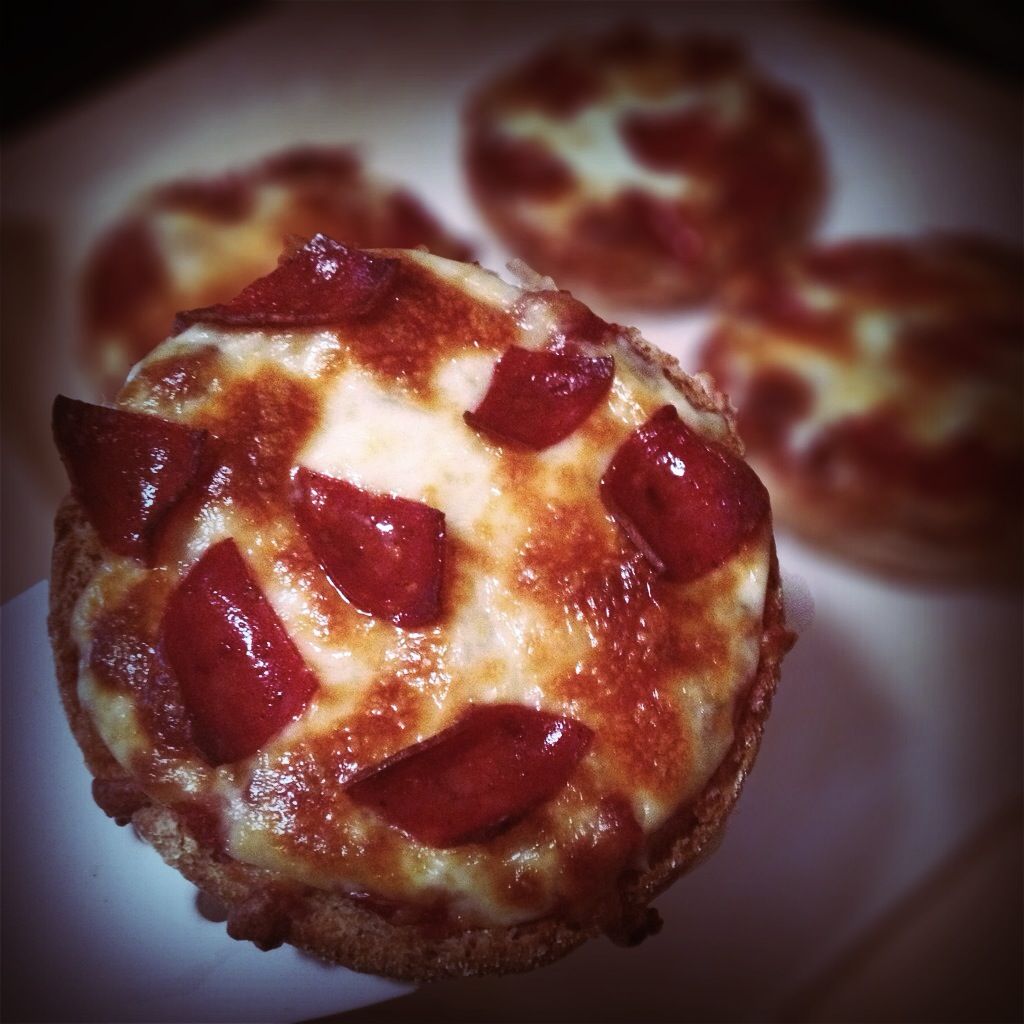 I'm not going to say my weekend was all bad because I managed to perfect my
English Muffin Pizza
recipe. In the original recipe, I baked the pizzas in a pan because I wanted to post the recipe here and I thought that most people would have a pan. Over the weekend I tried the recipe again and baked the pizzas directly on my pizza stone in a 500 degree oven for ten minutes. It was magical. The English muffins had more of a crust-like taste when baked on the stone and the cheese! Don't get me started on the utter deliciousness of the cheese. I also took the time to slice the turkey pepperoni this time. It made for much prettier pictures.
Unfortunately, the pizza was the only thing that made me happy this weekend. On Saturday morning, I woke up early and decided to ride my bike to the park. It was going really well too. I had almost reached the park when I hit an uneven patch of sidewalk. Anyone who has been reading this blog for a while knows what's coming next. One second I was happily riding towards the park and the next second I was falling and wondering how bad it was going to hurt.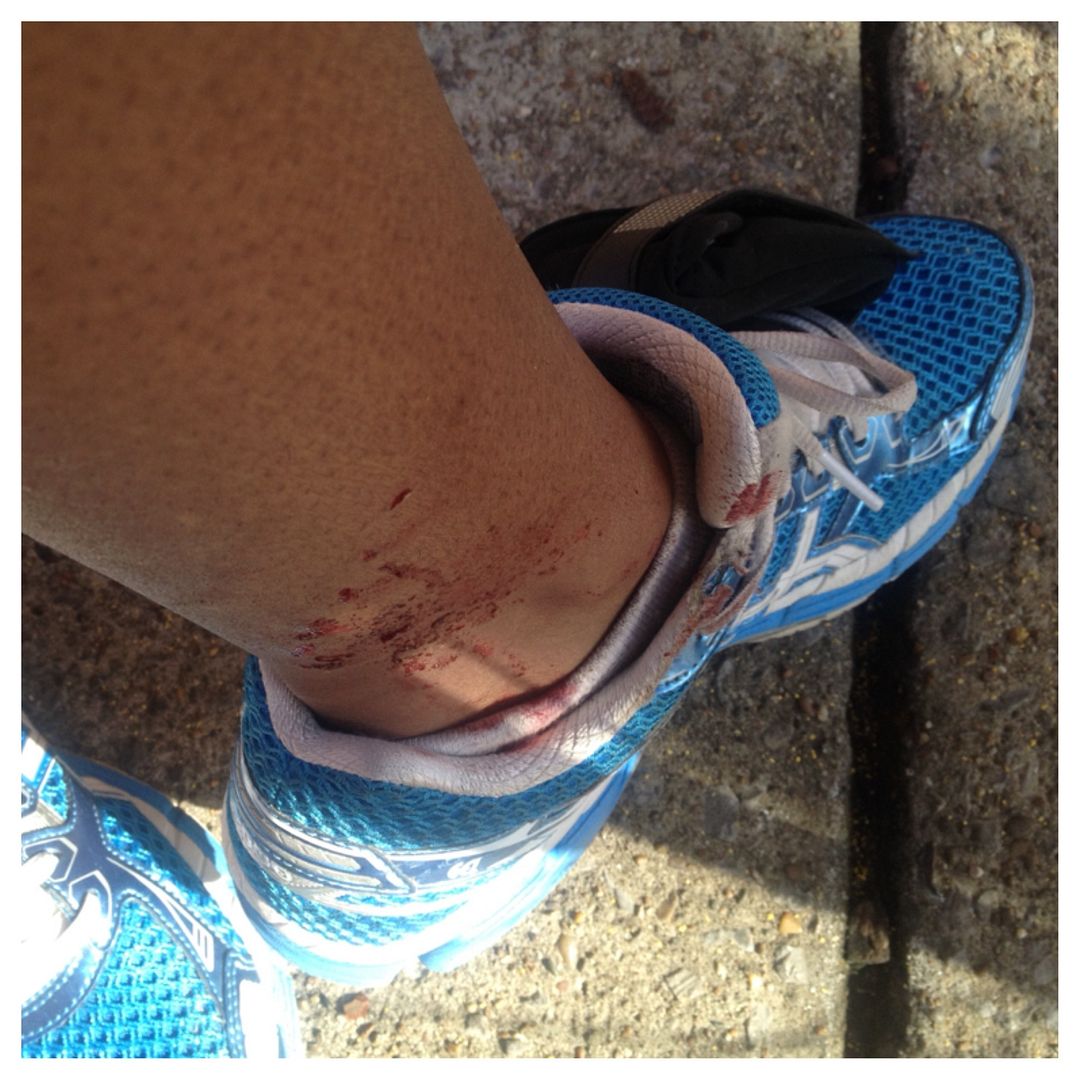 Unlike the
ankle spraining
incident, I was able to walk home. Much like the
t

ripping during my long run
incident, there was blood, an overwhelming sense of embarrassment, and a goose egg sized lump on my knee the next day. Since it was such a beautiful day, there were plenty of people outside to witness my mortification. The good news is that no one laughed at me. This is probably because there was blood running down my leg and the sweatshirt I was wearing was, well, let me just show you: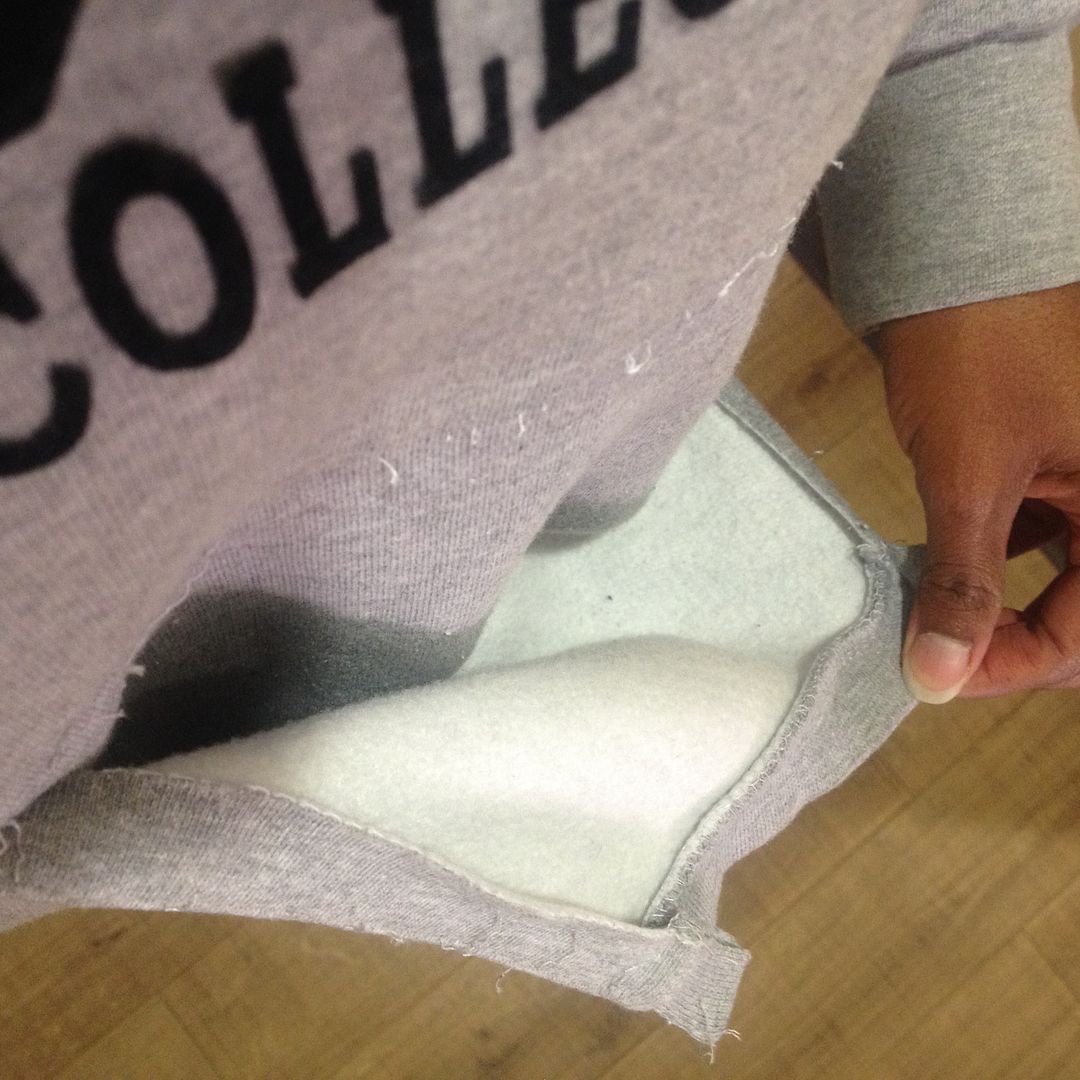 Several people asked if I was okay. I did my best to look appreciative, but all I really wanted was to crawl under a large rock and hide. Unfortunately, that was not a viable option since the pedal of my bike had gouged a line of little holes in my leg that needed cleaning and bandaging. I thought about riding my bike home, but decided against it. It's a good thing too since I learned when I started walking my bike towards home that something was now wrong with the front tire. It was not rolling smoothly and when I tried clicking through the gears it was really hard to get it into the lower ones.
After the adrenaline wore off, my leg was pretty sore so I spent Saturday and Sunday morning resting. By Sunday evening I was walking a bit less gingerly so I decided to go for a gentle walk and listen to the rest of The Fault In Our Stars. Between that book and discovering two heartbreakingly beautiful Keaton Henson songs called "You" and "10 AM, Gare du Nord" respectively, I have been feeling all the maudlin feels. That is not a book/cd pairing I recommend unless you are in the mood for a really good cry.
Today went a little better. I went to the bike store before dinner and after about twenty minutes, the mechanic was able to fix whatever it is I did to my bike. It involved taking the front wheel off and pounding the quick release on the counter. It was a little terrifying that fixing my bike involved all of that, but it worked. When I asked him what I owed him, he told me no charge because the story was enough.
Macmillan Audio Audiobook Giveaway Winner
Thank you to everyone who participated in the Macmillan Audio Giveaway! The winning entry is:

Congratulations, Kris! Send me an email at
downsizingashleyblog@gmail.com
to claim your prize. If I don't hear from you in 72 hours, I will choose a new winner.