I was so busy worrying about how my
ileoscopy/colonoscopy
would go that I got behind in posting about my miles. Now that that's over with, let's catch up.
Sunday
In true introvert fashion, I got to the park as early as I could on Sunday to avoid all the people who pack the trails later in the day. There were enough runners and park police out that I felt safe, but not so many that I had to dodge dogs, small children, and slow-moving adults as I got in my miles. I am trying to increase the distance and time of my rides over time. Before getting Genevieve (my bike), I hadn't ridden a bike for years. For now, I'm trying to re-learn all the basics of bike riding and regain the stamina I lost after spraining my ankle. I'll worry about pace later. For now, I just want to strengthen my legs so they can manage longer miles and possibly propel me up the hills I am currently too afraid to attempt on two wheels. By the time I got home on Sunday, I had ridden 10 miles. It was my longest ride up to that point and it went really well.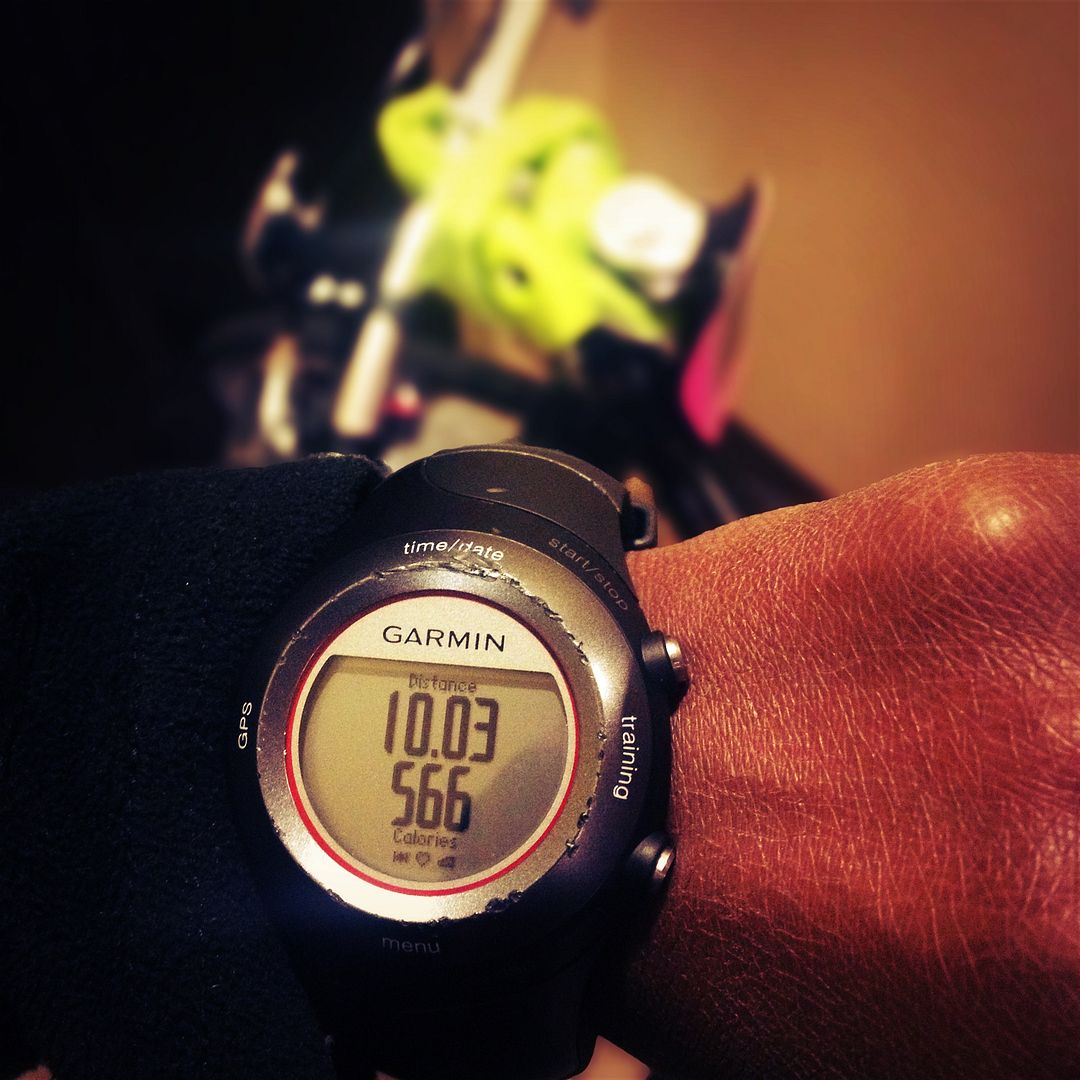 Monday
Monday was ileoscopy/colonoscopy day. The original plan was to get up before my procedure and get in a few miles, but I had to be at the hospital so early that it just wasn't happening. I was not allowed to ride/drive/make major decisions/generally live my life after I left the hospital because of the anesthesia. I was also exhausted and sore from the biopsies, so Monday wound up being a rest day.
Today
It was supposed to rain this morning so I decided to wait until after dinner to go for a ride. Of course, that also meant dodging the previously mentioned people and animals for the duration of my ride, but I guess it was not too bad. The weather had really cleared up by the time I got outside and so I aimed for 12 miles just to enjoy it a little longer.
I sort of forgot to turn on my Garmin until I got down the street from my building, but I don't suppose a little missing data is the end of the world. Here are the stats from today's bike ride:
I wanted to burn 600 calories today, so I did good. I'm not sure if it's something I'm eating or me gaining leg muscle from all the bike riding, but I think my thighs are getting bigger y'all. I'm not pleased. All the men I see riding bikes have thin, toned legs so I was secretly hoping there would be a sexy leg shaped silver lining to not being able to run for a while. Seeing my thighs get bigger is kind of a letdown. I really hope its only temporary...
Mash Up Conditioning and Cocogo Giveaway Winners
I realized that I had chosen and emailed the Mash Up Conditioning DVD winner, but I never announced it in a blog post. I also did the drawing for the Cocogo Giveaway and needed to announce that winner as well. So, without further ado, congratulations to the winners!