I recently discovered a company called
Explore Asian
that makes healthy pasta out of organic beans. They also make wheat noodles and soybean noodle soup bowls. They were nice enough to send me several of their products to review, so I wanted to tell you a little more about the company and my experience with their products. The long version is below, but here's a spoiler in case you're feeling impatient: I really like them. In fact, I already ordered more of the noodle soup bowls on Amazon with my own money. That, ladies and gentlemen, is the clearest possible indicator that I am a fan.
The noodle soup bowl was the first of the products that I tried and I was very impressed. When you open the soup bowl, there are three little packets: noodles, flavor powder, and salt. Since the salt packet is separate, you can control how much sodium your soup contains. You make the soup by adding boiling water to the fill line, stirring in the flavor packet, and letting the noodles sit in the hot water for three minutes. While I was waiting, I took a look at the nutrition information. The soup bowl had 214 calories, 3g fat, 11g fiber, and a whopping 22g protein. I thought that was pretty good, but I was not fully sold until I tasted the soup.
I tried the broth then added a small amount of salt from the salt packet. I was not sure what vegetarian chicken flavor would taste like, but it turns out that it is comforting and delicious. The noodles were also a pleasant surprise. I have tried something called tofu noodles in the past and I was worried that the soybean noodles would have a similar texture to the tofu noodles, i.e. slimy and weird. Turns out, the soybean noodles in this soup were thinner, not at all slimy, and al dente enough to give the noodles some bite. The noodles still don't have the same texture as regular pasta, but I have never encountered a healthy pasta alternative that did. If I had to compare the texture to something, I would say it reminds me of baked tofu--not meaty exactly, but pleasant and very edible.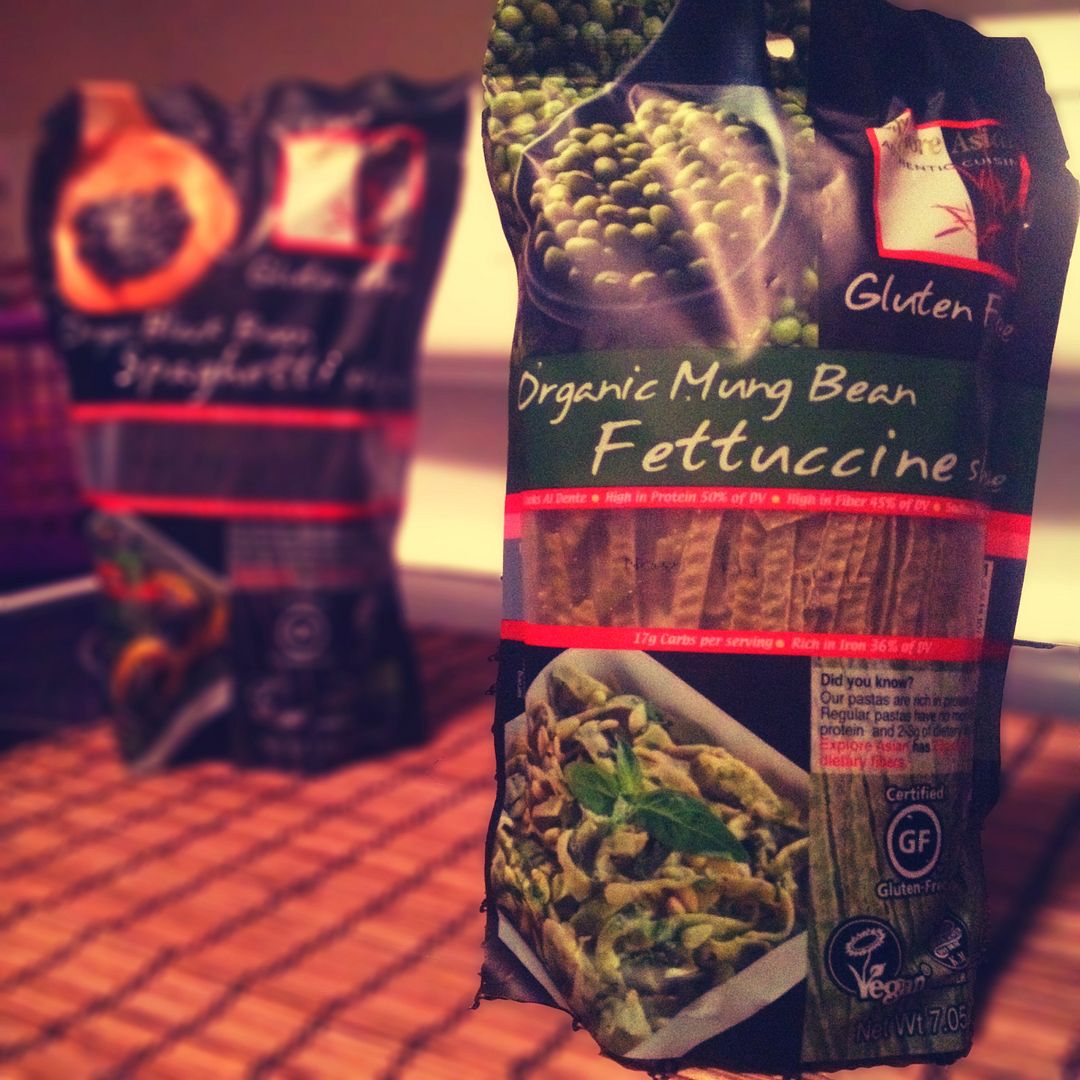 Next, I used the Organic Mung Bean Fettuccine in a one pan pasta meal that originally appeared in Martha Stewart Living. It also appeared on every blog on the internet according to Lottie & Doof, but I had never heard of it and it sounded good so I decided to try it with bean pasta.
Ingredients (Serves 1)
2 oz. Explore Asian Organic Mung Bean Fettuccine
1/4 of a Sweet Onion, Diced
6 Fresh Basil Leaves, shredded
10-15 Cherry Tomatoes, diced (or just halved if you like big chunks of tomato)
2-3 cloves of garlic
2 cups of water or broth
dash of red pepper flakes (optional)
Directions
Put all the ingredients in your pan and boil until the pasta is cooked and the liquid has reduced into a sauce. Yup, it's that easy. The organic mung bean pasta will keep its texture even if you boil it for longer than the package instructions, but be careful if you are using regular pasta because regular pasta may overcook before the sauce reduces. At the very end I added a little bit of butter substitute to replace the olive oil I omitted from the original recipe. I garnished my finished pasta with more fresh basil, bacon bits, and a bit of low fat mozzarella.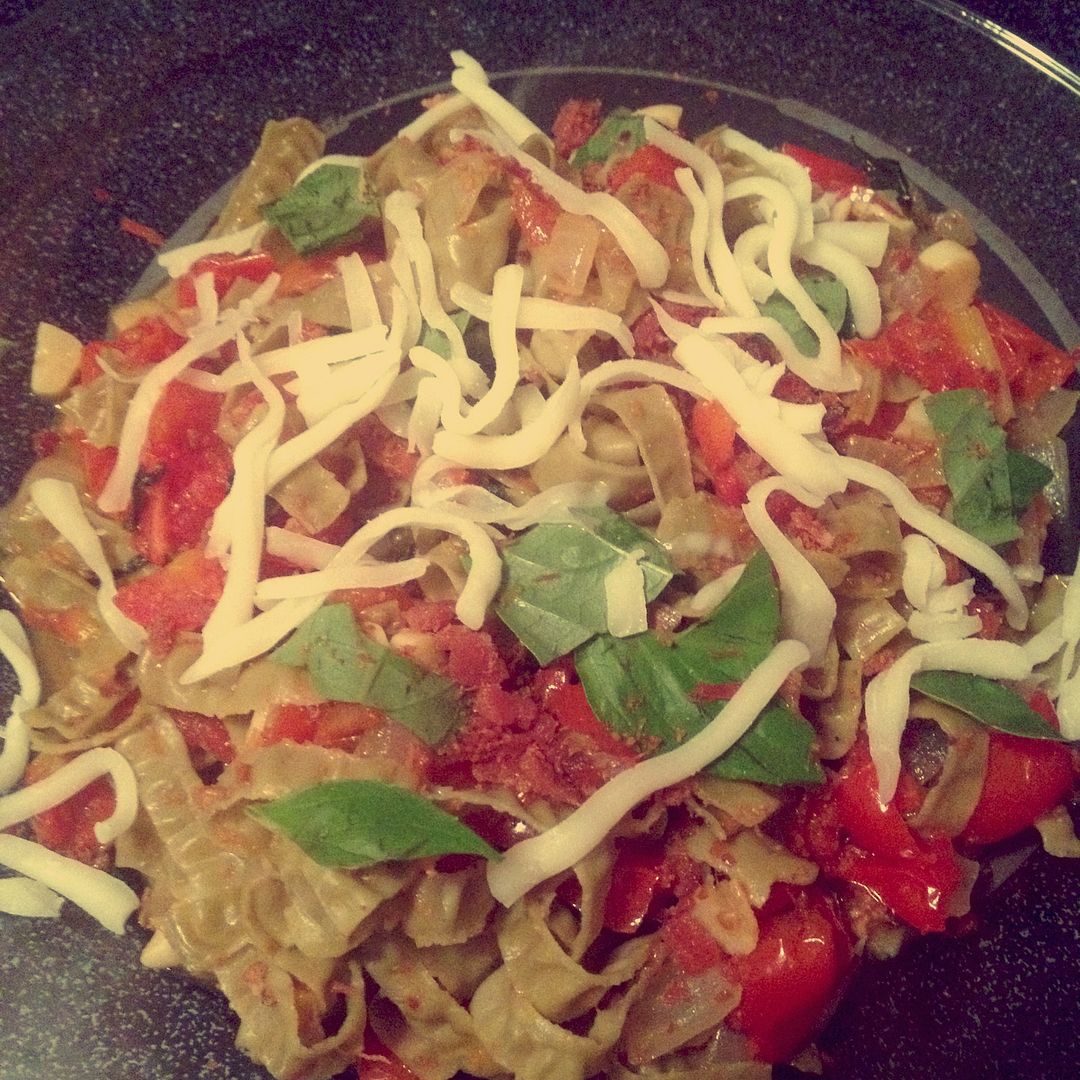 I really enjoyed this meal and will definitely be making it again. Next time I think I might try it with chicken sausage. The bean pasta took on the flavor of the other ingredients. I think the pasta would work well in pretty much any pasta dish, though, since it doesn't have any flavor of its own. Overall, I'm really pleased with Explore Asian's offerings and I will definitely keep using their products as a healthier alternative to pasta. Have you ever tried Explore Asian's products?
*Explore Asian sent me several of their products to try free of charge, but I did not receive any further compensation for this review. As always, all opinions are my own.