If you follow me on
Twitter
, you know that I had surgery last week. I have had an ostomy for the last four years. Several months ago, I noticed a little lump on my stoma that my ostomy nurse said was a polyp. The polyp wasn't painful or serious, but it kept getting bigger so I went back to the ostomy nurse about a month ago. She asked the surgeon who did my ostomy surgery to take a look and the surgeon thought I needed surgery.
My surgeon explained that she would try to just remove the polyp, but that there was a chance that she would need to completely redo my stoma. She wouldn't know which one she would have to do until we were in the operating room. If all she had to do was remove the polyp, it would be a simple outpatient procedure with minimal recovery time. If she had to redo my stoma, I would need to stay in the hospital for at least one night. Since I didn't know when I left for the hospital if I would be coming home or not, I had to pack for an overnight stay. Dedicated blogger that I am, I decided to take the opportunity to try out my
Apera Bags Yoga Tote
.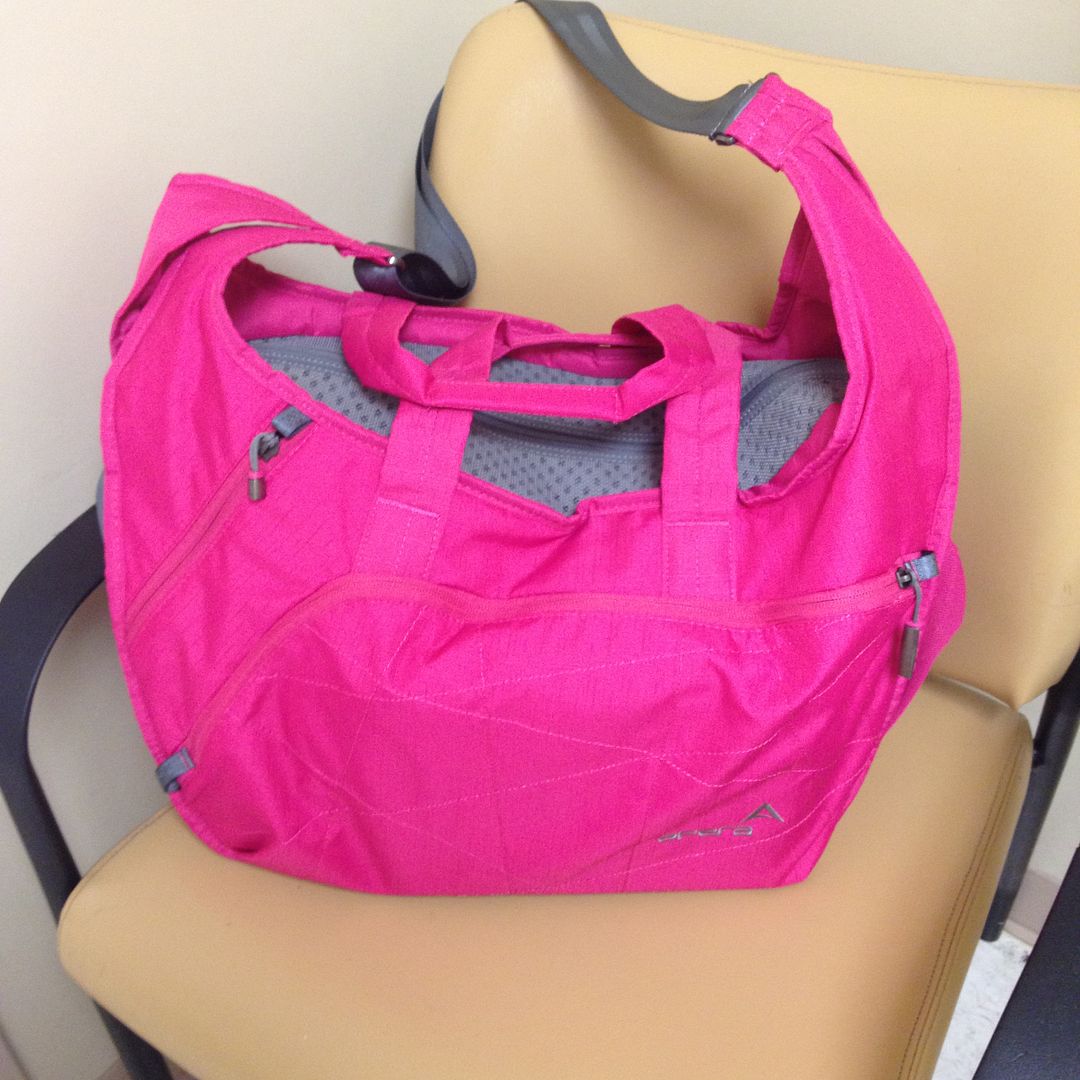 To make a long story short, this is a great little gym/overnight bag. It has tons of pockets to help you stay organized, it is incredibly roomy on the inside, and I was really happy with the quality of the bag. Plus, it comes in magenta, a color for which I have a deep and abiding love.
I packed a change of clothes, some toiletries, and my medication when I went to the hospital, but I decided to see how much of my fitness gear I could fit in the bag just for fun. The bag held some running tights, a tank top, running shoes, a lightweight rain jacket, some toiletries, a water bottle, my garmin and heart rate monitor strap, a running belt, iphone arm strap, my bike helmet, and my yoga mat with plenty of room to spare. The interior has a fabric separator that lets you keep your shoes or sweaty clothes separate from everything else in the bag. Plus, the straps are designed so that you can slide your yoga mat or foam roller through them securely without worrying about them falling out. This bag is going to see a lot of use as a gym bag, but it was also great as an overnight/hospital bag.
Apera
is having its Anniversary Sale now through July 31, so if you are interested in snagging your own Yoga tote, enter code SUMMER2014 at checkout for 20% off. I should also mention that for every 3 bags Apera sells, they will donate one bag to a Special Olympics athlete.
**The folks at Apera bags were nice enough to send me one of their yoga totes for purposes of this review. I did not receive any further compensation for this post. As always, all opinions are my own.**