I have always loved reading. There were a few summers as a kid when my goal was to read a book a day until school started, and I remember spending a lot of happy hours blazing through books. Sadly, I don't have summer breaks anymore, but I still like to make time everyday to read. Most of the time that means listening to audiobooks while I go about my workouts or make my way to work, but I am happy to say that despite being a busy adult, I still finish a respectable number of books.
I have had a Goodreads profile for a while now (think social media for book lovers. Let's be
friends
!) and I recently discovered that you can challenge yourself to read a certain number of books in 2015. I was feeling ambitious when I set my goal, but I decided to aim for 100 books in 2015.
If you're good at math, you know that I would need to read approximately 8 books per month to hit my goal. That breaks down to about two per week. I'll never hit my goal if I go down the
Song of Ice and Fire
rabbit hole, but if I stick to mostly average length books, I think I can reach my goal--or at least have fun getting close. So far in 2015, I have read some really awesome books and I thought some of my fellow book lovers might like a quick review of some of the books I have finished recently.
Past Midnight
by Mara Purnhagen was just ok. It's about Charlotte Silver, a girl whose parents have their own ghost hunting tv show. She tries to hide her parents' job from her friends when the family moves to a new town for a case, but things get complicated when a ghost takes a special interest in her. For me, the plot was only mildly interesting as was the main character. There are so many amazing young adult novels that have come out in the past few years, that this one just didn't measure up.
I thought
The Night Circus
was spectacular. As children, Celia and Marco are trained by their respective mentors to battle each other in a high stakes competition that will determine which of them is the more talented illusionist. Their battle takes place within the confines of Le Cirque des Reves, an extraordinary circus that appears out of nowhere and is only open at night. At its heart, The Night Circus is a story of true love, intrigue, and, of course, magic.
I will preface this by saying that Molly Harper could kick puppies and bite babies and I would still puffy heart love her books. That said, I thought
Rhythm and Bluegrass
was a fun and lightweight read. It's the second book in Harper's Bluegrass series. If you are looking for a cute, occasionally humorous romance novel, Rhythm and Bluegrass might be for you. I will note that while this book is the second in a series, it could easily stand alone.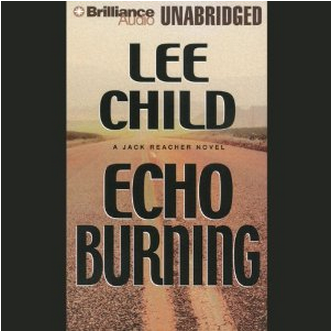 Echo Burning
is book 5 in the Jack Reacher series. I have read a few of the Jack Reacher books, but I haven't been reading them in order. I was able to follow and enjoy this book even though I haven't read the first four books in the series. I thought Echo Burning was a little uncharacteristic of this series because it was a little light on action sequences. Most of the Jack Reacher books are thriller thrillers, but this one was more of a psychological thriller where Reacher decides to help Carmen, a Mexican-American woman who was allegedly being abused by her rich, white, Texas rancher husband, Sloop Greer. At the beginning of the novel, Sloop is in jail for failing to pay his taxes or some similar federal charge. Now, the Texas rancher is about to get out of jail and Carmen is terrified that the cycle of abuse is going to start all over again. Carmen can't leave Sloop because he would never let her take their daughter, Ellie, and she can't go to the police because the local sheriff is an old friend of Sloop's. In the days before Sloop comes home, Carmen goes out looking for someone to help her and she finds Jack Reacher. Throughout the novel, Lee Child builds suspense by calling Carmen's credibility into question. You might be disappointed if you are looking for a traditional thriller, but as a psychological thriller, I think Echo Burning is pretty good.
Those are a few of the books I have read recently. Do you have any reading goals for 2015? Have you read any good books lately?